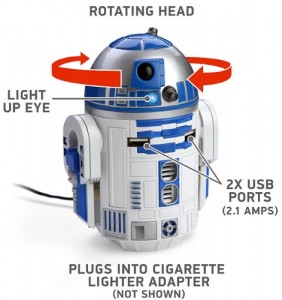 Readers, its hard to believe but 37 years ago that momentous movie called "Star Wars" came into our life.
Today's gizmo may not be as spectacular as others of the past, however With yesterday being the unofficial Star Wars "May the fourth be with you" day we thought it should recognize the achievement of our friends from the Galaxy far far away.
The R2D2 USB Car Charger is a must have device for you fans. Small enough to fit into your cup holder this Officially-licensed Star Wars merchandise provides the driver with 2 USB charger ports for your cell or smart phone, mp3 device or tablet .  That's right, each port provides 2.1 Amps of power which is strong enough to charge your tablet.
R2-D2's dome rotates and lights up; he whistles and beeps (when power is connected and when your device begins to charge; force him to animate by pressing his center button which turns power to the ports on)
Now only if we could find a gadget that would erase Jar Jar Binks from those Star Wars films …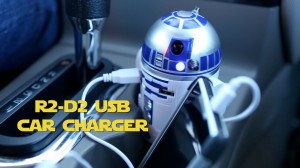 Product Specifications
Dimensions: 2 x 3.5 x 5.5 inches
Compatible: with anything that charges via USB
USB Cable not provided
Power: Each port provides 2.1 Amps
Officially-licensed Star Wars merchandise
References: R2D2 USB Car Charger