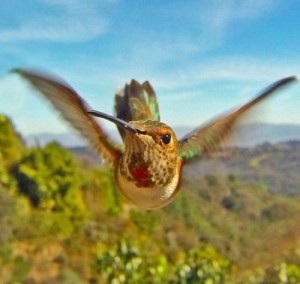 Since spring is in full force in the backyard the birds have come back and have enjoyed the seed buffet out on my feeders.  Unfortunately, my camera is not good enough to capture great pictures of the different varieties of bird species.
Researching online I have come up with a fantastic Bird Photo Booth created by inventor, photographer, and birder, Bryson Lovett. Yes, you read it correctly a Photo Booth for birds.
A hybrid combination of a bird feeder with a wireless bird cam this device is capable of getting spectacular birds eye photos.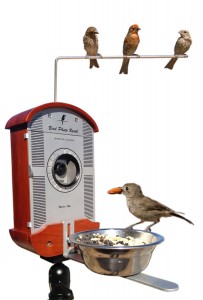 Simply connect to the Bird Photo Booth through WiFi or Bluetooth with your iPhone, GoPro (and soon to be Android) device and your ready to take pictures. In addition to being weather-proof and having image stabilized features the Photo Booth also allows you to talk to the birds using FaceTime.
A wonderful gift to consider for the up coming Mother's and Father's days.
Product Specifications
Dimensions: 10″ high x 6″ wide x 3″ deep
Weight: 3 lbs.
Materials: Sustainably-harvested white oak hardwood and aircraft-grade aluminum, stainless steel rods
Connectivity: Connect via WiFi or Bluetooth to the feeder camera
Compatability: all iPhones, GoPro cameras, and 4th and 5th generation iPod touch
Weatherproof (rain)
Integration: Talk to the birds using FaceTime
References: Bird Photo Booth