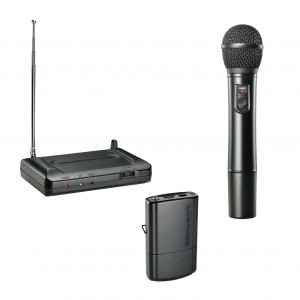 Watching "The Voice" on TV has reminded me of not only the progression of the performers but also how technology has progressed over the years.
Gone are the days of the wired microphone with twangy sound that distracts and distorts the melodic tunes from a singers voice. At home now, you too can have spectacular audio gadgetry to spice up your home performances. One of the sleekest devices I had the opportunity to listen to was a Wireless Mic System developed by Audio-Technica.
The ATR7000 Series VHF Wireless Microphone Systems is great for both consumer and professionals. Very easy to set up and use, the ATR7000 can deliver high quality sound for up to 200 feet away. Included in the design of the wireless microphone are rugged unidirectional dynamic elements that pick up voices close to the mic with clarity while rejecting outside noise. The ATR7000 is available in four distinct system configurations (handheld, lavalier, guitar, & headworn) and includes a mics include a compact body-pack transmitter with an external volume control.
Unfortunately (for shower singers like myself) the only thing missing from the ATR7000 is the waterproof feature.  Oh well perhaps it will be available in the next release.
Product Specifications
HANDHELD Dimensions: 9.54″ (242.4 mm) long, 2.11″ (53.5 mm) diameter
HANDHELD Weight 7.3 oz (207 g), without battery
HANDHELD Battery 9V (NEDA 1604A) Alkaline, not included
HANDHELD Battery Life approximately 14 hours (alkaline)
Quarter-wave telescoping antenna for extended operating range of up to 300 feet
Available in 4 system configurations (handheld, lavalier, guitar, & headworn)
References: Audio-Technica Wireless Mic