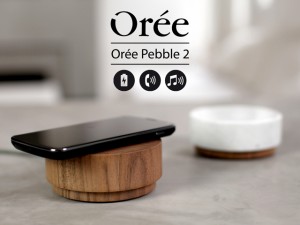 I've come to believe that it is very easy to create technology out of electronics, but extremely difficult to design an electronic device that is artistically appealing to ones environment. Our friends at Orée have once again mastered this challenge.
From the inventors of the elegant wooden keyboard and track pad is the Pebble 2, a sleek and sexy smartphone wireless charger combined with a 360° Bluetooth speaker and microphone.
Carved out by Artisans in the Languedoc Roussillon region of southern France from a single block of Carrare white marble or premium French walnut or Tilia wood, this device is custom designed to meet and match your elegant office or home attire.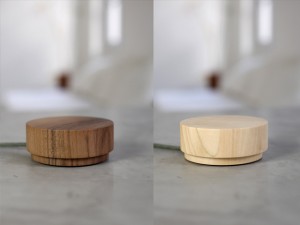 The Pebble 2 is Qi compatible, which means it will work with a variety of mobile phones including Google Nexus 4 & 5, the Nokia Lumia and the Samsung Galaxy S4 & S5. However because the Qi charging technology is not yet embedded in iPhones, they also have a wireless power sleeve (available in 2 colors of natural and indigo blue) that will make sure the Pebble 2 will work with your iPhone5 and 5S.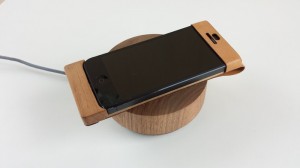 The Bluetooth speaker functionality of the Pebble is comprised of a 5W loudspeaker with a bass reflex chamber built into the material, a CSR chipset with 3D surround sound optimization, background noise and echo cancellation algorithms.  This ensures that the Pebble 2 doesn't only looks good on your desk but provides you with that rich, deep elegant 360°sound for pristine music and incoming calls. You can say that the Pebble 2 will ensure that anyone that calls you (even your boss) will look and sound good.
Product Specifications
Material: Available in premium wood (French walnut or Tilia) or white Carrare marble
Compatibility: all mobiles equipped with Qi (ie Google Nexus 4 & 5, the Nokia Lumia and the Samsung Galaxy S4 & S5)
Power Sleeve Adapter for iPhone5 and 5S
Retail price: $250 wood version, $300 marble version
Status: Pre-order on Kickstarter from 14 May 2014
References: Oree Pebble 2 Smartphone Wireless charger + 360° Bluetooth speaker and microphone