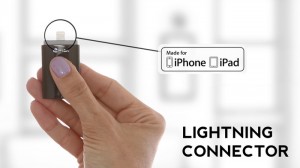 Apple has created a sensation with their iPad, iPhone and iPod touch devices. Last week I noticed several people at a conference utilizing these devices to take notes, photos, record audio and video.
The only challenge is how you transfer information to/from these mobile devices or even share with other computer or portable devices (ie computer, Phone, Tablet). No matter how you look at it, transferring a video via email or Cloud storage takes you a very long time.
Our friends at Sanho Corporation have come up with a solution to our challenge. The iStick is the worlds first USB Flash Drive with Built-In Apple Lightning Connector.
The iStick comes with some cool features including:
Music & Movie Player (able to decode MKV, RMVB, AVI, WMV etc.)
1080p HD movie streaming, direct playback from iStick
Photo & Document (Excel, Word, Powerpoint, PDF, iWork) Viewer
File Management (Copy/Cut/Paste/Delete/Rename/Create Folder)
Backup photos/videos from iDevice Camera Roll to iStick
Open files from other apps in iStick app
Open files from iStick in other apps
iDevice Contacts backup and restore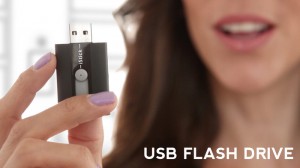 No training or reading complex documents are required in order to understand how to use the iStick. Simply just slide the switch on the iStick to switch the USB connector to an Apple approved Lightning connector. Available in 8/16/32/64GB/128GB means there is a size that is the perfect fit for your requirements.
Product Specifications
Compatibility: iPhone 5/5s/5c, iPad (4th Generation), iPad mini, iPad mini with Retina display, iPad Air, iPod touch (5th Generation)
Dimensions: 51.6 x 28.6 x 9.1mm
Weight: 10g
Capacity: 8/16/32/64GB/128GB
Connectors: Standard USB 2.0 and Apple MFi-Certified Lightning Connector
Material: ABS Plastic and/or Aluminum
iStick-to-USB Speed: 12MB/s (Read), 7.5MB/s (Write)
iStick-to-iDevice Speed: 2.5MB/s (Read), 1.9MB/s (Write)
References: iStick – USB Flash Drive with Built-In Apple Lightning Connector