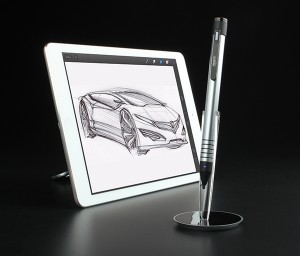 Gizmo Readers, as you are aware Tablets are no longer simply a nice gaming accessory. Their usage transcends into traditional PC or desktop markets.
Should he be alive today the artist, scientist and genius Michelangelo would have used a Tablet not only for his scientific designs but also for his drawing and paintings.
An example of how the Tablet has now evolved is seen with the accessories that have been created to enhance some of the applications that have been developed for the tablet.  One of them created by Chicago-based Lynktec, is a rechargeable Stylus called the Apex that works with Apple and Android tablets.
The Apex is powered by a rechargeable lithium ion battery and provides a 90% reduction in tip size compared to most passive styluses. It does not require a Bluetooth connection in order to work and is powered on and off simply by pressing the integrated pocket clip switch.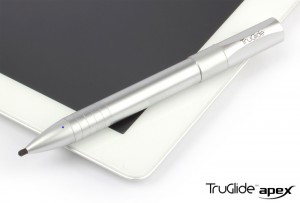 The precise 2.3mm firm conductive polymer nib provides the user a very fine point for writing and drawing. If you have had the experience with other stylus you will know how important this is. My experience with other (not named) stylus has shown that a stylus with a fat nib causes some challenges with handwriting applications (as if my handwriting needed any more assistance in becoming illegible).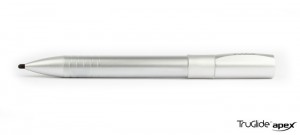 Lynktec has integrated may green ideas into the design. In addition to leveraging a rechargeable battery there is a power saving feature that automatically shuts off the stylus after 30 minutes of inactivity and a LED Low Power indicator that lets the user know that the battery needs recharging.
Lynktec is also working with application developers to offer in-app specific Apex stylus selection options which result in a smooth and precise application.  Some of these applications include
ZoomNotes
Noteshelf
Penultimate
GoodNotes
Paper by FiftyThree
Procreate
ArtRage
Most definitely based on the precision of the Apex I can see many more applications being developed to compliment this tools precision.
Product Specifications
Dimensions: Height: 1.3cm (0.5") x Length: 14cm (5.5")
Weight: 1.1oz
Battery: rechargeable lithium ion
Material: satin chrome finish with black accent
Compatibility: iPad Air, iPad 2/3/4, iPad Mini, and many popular Android tablets
Low Power Indicator
Energy Efficient: Automatically shuts off after 30 minutes of inactivity
Pocket Clip for Easy Storage
Replacement Nib Storage inside Cap
Charging: micro USB charging cable (included)
References: Rechargeable Apex stylus