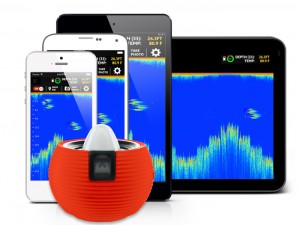 Well fishing season has begun. If your looking for that latest tool that will help you with catching that fish then look no further.
The FishHunter Compact sonar is the worlds first compact floating sonar. The sonar transmitter is only 3.0 inches in width and fit inside a floating protective case. The bright skin is the outer rubber coating that protects the FishHunter Sonar against bumps and impacts. The sonar comes with a an extra sonar skin, charging station, carrying bag and USB cable.
The FishHunter sonar sends data through Bluetooth to the FishHunter app to both IOS and Android devices.  It is so portable that it can be carried in your pocket or tackle box and is ideal for ice fishing or even on your kayak or canoe. It is environmentally safe, shock resistant and waterproof.
The FishHunter Sonar would make a wonderful gift for father's day.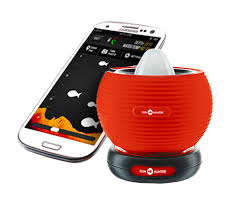 Product Specifications
Dimensions 8.5 x 6.2 x 3.0 in
Weight 16 oz
Body Material:  Polycarbonate and silicone.
Power Supply: Internal 3.6 VDC 600 mAh battery.
Battery Life   6-8 hours (single charge)
Charging Time  2 hours (to fully charged)
Compatibility: iPhone or Android (4.0 with Bluetooth) devices
Communication: Bluetooth 4.0
Bluetooth wireless range – 20 ~ 40 m, no cell tower connection required
Depth 36 meters/120 feet, with 3 different depth settings, versatile and accurate at finding fish of various water depths
Environmentally safe, shock resistant and waterproof
Free App: FishHunter app is available for free on both Android and Apple Stores
References: FishHunter Compact Sonar