There are approximately three weeks until the World Cup.  Unfortunately for many of us we will not be named to our national squad for the tournament and will not be able to play in Brazil.  However as consolation, here's wonderful gizmo that will get you and your gadgets closer to the pitch.
The Classic Match Foosball by New Potato Technologies is a high tech version of your traditional Foosball game.
A simple but brilliant concept of a working Foosball game-table that pairs working 2 axis control bars with tactile elastomer handles. Simply download the app on your iPad and then dock it on the accessory gaming table.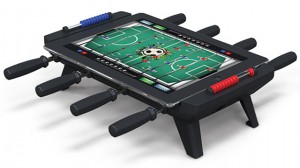 The dock is powered via the 30 pin connector to the iPad. Designed for One, two, three, or four person play.  There is also a USB connector that allows you to charge and synch your iPad while docked in the game-table.
At 3 pounds the table is lightweight and can be easily disassembled for easy transport,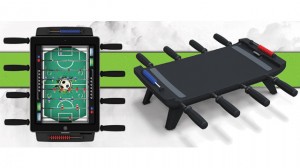 Product Specifications
Dimensions: 7" x 12" x 3.25"
Weight: 3 pounds
System Requirements: Pad, iPad 2nd Gen, iPad 3rd Gen, 4th Gen and iPad Air running iOS 5.0 (or higher)
Competition: One, two, three, or four person play
VERSIONS AVAILABLE:
Version 1:

Apple 30 Pin Dock Connector
Powered by the iPad, iPad 2nd gen or iPad 3rd generation

Version 2:

Bluetooth Smart version with no Dock Connector
Battery Powered for iPad 3rd gen, iPad 4th gen and iPad Air
References: iPad Match Foosball