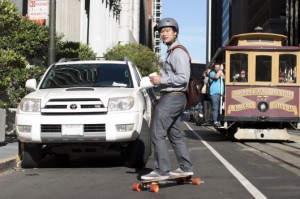 The latest is green transportation has hit the Longboard market. Created by California Boosted Boards the Longboard is a high tech electric skateboard that's a great for both Eco-friendly transportation and cool off hour ripping.
This Bamboo board is propelled by a twin brushless outrunner motor with speeds up to 20 mph (32 km/h for my Canadian friends). The 40V on-board lithium battery is fantastic for short commutes (ie 6 miles / 9.65 km) to the office or spinning your wheels around the neighborhood.

The really cool features behind the Longboard include a Bluetooth wireless Handheld control. This allows the rider to accelerate or apply the brakes easily with a Bluetooth enabled thumbwheel control.
Boosted Boards also will customize your board by offering laser engraving (for additional cost) so you can personalize your board.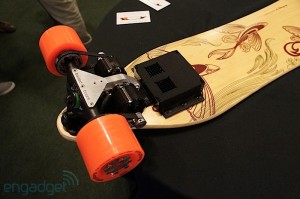 Features
Weight: between 12 and 15 pounds
Range: 6 miles / 9.65 km
Top Speed 20 mph / 32 km/h
Battery: 40V Li P04 battery
Battery charge time: 2 hours
Bluetooth Wireless Handheld Control
Material: Bamboo
Maximum grade – 15%
Motors: Twin brushless outrunner motors
Cost: $1995
Shipping status: Currently Pre-Order
References: Boosted Boards Longboard