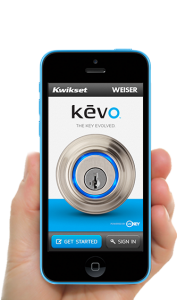 By the look of the moving vans on the road this past weekend, moving season is in full gear.  One of the first items on the agenda for renters, landlords or home purchasers is changing the front lock. Unfortunately it is one of those unnecessary but time consuming and costly chores that need to be completed.
Here is a solution brought to us by our friends at Weiser. The Kevo is a high tech solution for the new era. An Electronic Bluetooth lock that provides the flexibility without additional cost to add, remove and change your lock. Installation is quite simple and only requires a Philips head screwdriver and 4 AA batteries (included).
Once you have installed the Kevo, download the free app from the Apple store and configure your eKey.  Kevo provides you with different access levels.
Access Levels:
Owner eKey – Add, disable, assign, reassign, delete eKeys, view history, receive notifications
Admin Key – manage users (purchase, send, disable, reassign and delete eKeys), view the lock's history and receive notifications
Anytime eKey – lock and unlock the door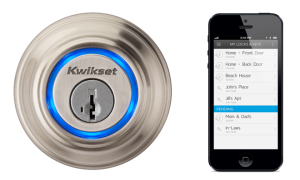 App options include the ability to send an eKey to anyone, anywhere, anytime. Temporarily disable or permanently delete any user from the Kevo system. eKeys never expire and can be reassigned from one person to the next.
Weiser has also built in a safety mechanism just in case of a power failure or your battery dies. If your phone dies you can use the Kevo fob or a standard key to unlock the door.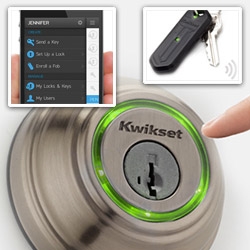 Features
Communication: Bluetooth 4.0
Finishes: Satin Nickel, Polished Brass, Venetian Bronze
Lock Battery: 4 AA batteries (included)
Fob Battery: one CR2025
Battery life: ~ 1 year
Compatible: Apple iPhone 4s, 5, 5c, and 5s (Android app under development, eta unknown)
Warranty: Weiser lifetime mechanical and finish warranty for Kevo deadbolt product along with a along with a 1 year electronic warranty to the original residential user of the product
References: Kevo Electronic Bluetooth Lock