Today whether you are a casual or a serious runner, you require tools that will help you to succeed. Beginning with the right clothing and shoes and continuing with the perfect training partner.
Looking to develop our next generation of Olympians and motivate amateurs like myself to get into shape Garmin has developed the Forerunner 15 GPS Running Watch. This sports watch has everything you require. Starting with standard features such as a Heart Rate monitor, distance covered, pace, calories and Personal Records.
Fairly light weight at 36g the Forerunner 15 has a display resolution of 55 x 32 pixels which makes it easy to look at while running. Waterproof with a water rating of 5 ATM (Atmospheres) indicates that the Forerunner 15 is not only rain resistant but can withstand pressures equivalent to a depth of 50 meters. A great feature for those of us who forget to take off our watch before we go swimming or canoeing.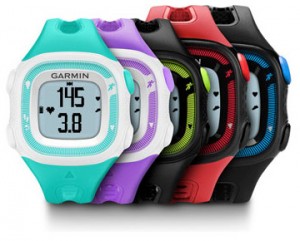 Adaptable for winter running you have the option of pairing the Forerunner 15 with a foot pod to capture distance information while running on treadmill runs.
The Forerunner 15 also provides motivation by informing you when you set records with new fastest mile or longest run to date. It also transparently interfaces with the Garmin Connect Mobile app (available on both Android and Apple Store). Simply upload your information to the Garmin Connect to see your runs on a map, get all the details of every mile and share information and personal records with friends.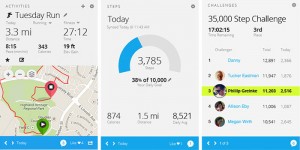 Features
Dimensions: Small: 1.58" x 2.05" x 0.62" ; Large: 1.79" x 2.25" x 0.62"
Weight: Small: 36 g (1.3 oz); Large: 43 g (1.5 oz)
Colors: Teal/White, Red/Black, Black/Blue, Black/Green, Violet/White
Battery: One rechargeable lithium-ion (included)
Battery life: 5 weeks in watch mode; 8 hours in training mode
GPS-enabled: Yes
Touchscreen: No
Water Rating: 5 ATM (Withstands pressures equivalent to a depth of 50 meters)
Compatible OS: Windows® XP or newer and Mac® OS X 10.4 or later
References: Garmin Forerunner 15 GPS Running Watch