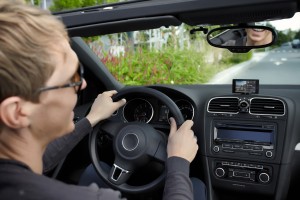 Each one of us are spending more time in our vehicles.  Daily our commute from home to the office is has gotten longer as a result of increased congestion on the highway and the summer construction season.  On weekends, this does not change as many of us like to get away from the city and drive (hours) up to the lake and cottage.
Searching on line has helped me to discover this really phenomenal product that will not only enhance my extended in-car experience but will also ensure that my care safety is not jeopardized.
The Parrot ASTEROID Mini is a compact, mobile, in-car hands-free multimedia system. The 3.2″ touchscreen color display panel attaches to your car's dashboard. The Asteroid Mini is your portal for applications, Internet, music, driver assistance for your trip and more.
The ASTEROID Mini connects to the Internet. The Parrot ASTEROID Mini allows you to access the Internet through your compatible smartphone using a 3G/4G dongle.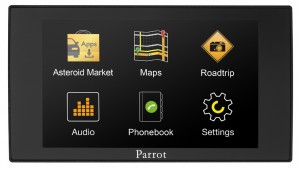 In order to listen to music, you can connect your iPod, iPhone or MP3 player directly to the ASTEROID Mini via Bluetooth, the traditional inline port, or by inserting a USB or SD card with your music.
The folks at Parrot have provided the user with a remote that allows you to navigate the menus of the ASTEROID Mini.  However, some states and provinces have distracted device laws that do not allow you to answer phone or GPS or MP3 player directly with your hands. Do not fear the Parrot ASTEROID Mini is configured with hands-free access.  This can be used to accesses your music with the voice activated music search option or calling or receiving calls on your phone via Bluetooth voice recognized initiated calls.
Although it is recommended that you use a Parrot Certified installer, I found the product is easy to install and configure.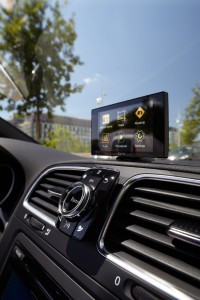 Features
Dimensions: 94 x 53 x 13 mm
Weight: 60 g
Display: 3.2" color
Telephony: Dual Mode, advanced voice recognition, call management (answer, call, reject, hold etc)
Music: Vocal activated music Search (Artist, Album)
Compatible formats: MP3, AAC, WMA, WAV, OGG
Bluetooth v2.1 with EDR
Audio: DSP, full duplex, echo cancellation, advanced noise reduction
Software update via USB key
References: Parrot ASTEROID Mini Mobile in Car hands-free multimedia system