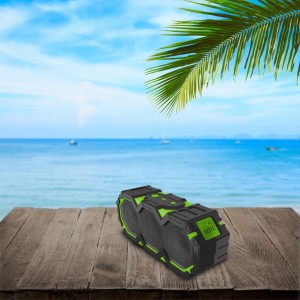 Looking to head out to enjoy an afternoon at the beach but afraid of getting your gadgets wet?  Well here is a solution that will alleviate your fears. Last week at the CEA in New York, the team at Altec Lansing introduced me to this wonderful techo accessory that would be great for the beach, camping or hiking.
The Life Jacket is rugged speaker that is water proof, shock-resistant (great for those volleyball games), and dirt, sand and dust resistant.  On top of this you can connect to this speaker via traditional (3.5mm) audio port or via Bluetooth protocol. The Life Jacket has an on-board microphone that enables you to use it for clear hands-free calls. With the 30 foot signal (Bluetooth range) your caller will have no clue that your dipping your toes in the water while taking that important call.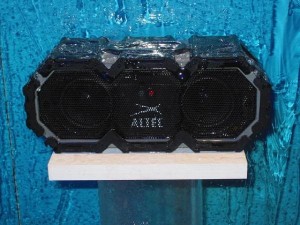 The USB connector on the Life Jacket can be used to charge the battery or other devices (ie your cell phone).
Features
Dimensions:6" long, 2" high
Weight: one pound
Connectivity: Bluetooth, 3.5mm port
Range: 30-foot signal range (Bluetooth)
Resistant: waterproof, shock-resistant, and constructed to withstand dirt, sand and dust
Battery: Rechargeable Lithium-ion battery
Battery life: 16 hours of continuous playback
Power: USB connector to charge the battery or other devices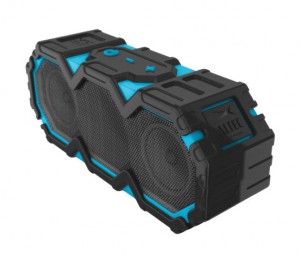 References: The Life Jacket Portable Wireless Bluetooth Speaker – Altec Lansing