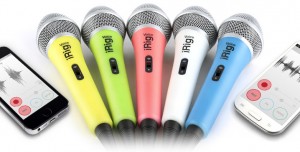 The dog days of summer have arrived here in North America. Its a great opportunity for the family to enjoy outdoor activities including canoeing, fishing and camping.  Our nightly ritual includes roasting hot dogs and marshmallows and Karaoke singing by the fire. It is a wonderful activity that each member of our family enjoys participating.
Our friends at IK Multimedia have created this great new device called the iRig Voice smartphone / tablet mic. Using it is easy. Simply connect the microphone to your the input jack on your iPhone, iPad, iPod touch, Android device. Next, download any one of many available Karaoke programs (such as Joy Sound, Anime Karoke, Starmaker, Vocalive, the voice) and now your ready to have fun.
The iRig Voice comes with a built-in headphone through input for connecting headphones for private practice and performance. Personally we loved "The Voice" app and I had lots of fun destroying my competition with "The Battle" rounds (or at least that's the story I am telling others).
The iRig Voice comes with the free EZ Voice companion. This app enables you to sing along with any song in your device library. The iRig Voice is available in five eye catching colors including Green, Blue, Yellow, Pink and White.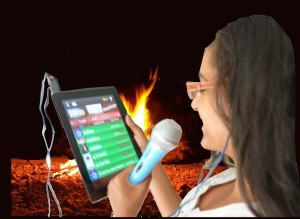 Features
Compatibility: iPhone, iPad, iPod touch, newer Mac models and Android devices
Available in 5 colors: Green, Blue, Yellow, Pink and White
Connects to Device's Input Jack
Integrated Headphone Jack for Monitoring
On/ Off switch located on the mic
References: iRig Voice Handheld Microphone for Smartphone and Tablets