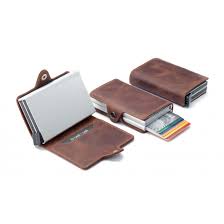 Technology can be used to facilitate and enhance ones life. However in certain cases it can also be used for illegal purposes. Take for example handheld wireless RFID scanners. I have seen personally how they can be used to scan an unsuspecting victim's personal and credit card information.
Secrid have developed a line of wallets that can help to protect consumers from identity theft and fraud.
The Twinwallet has the card protection technology in its leather pouch. It has space for up to twelve cards, paper money, business cards and coins. It is available in a variety of six different elegant colors and styles. With a click, all your cards slide out of the Twinwallet gradually.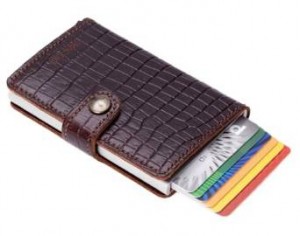 A wonderfully elegant solution to a troubling problem.
Features
Dimensions: 70 * 102 * 25 mm
Weight: 120 grams
Colors: Black, Vintage Black, Vintage Brown, Vintage Blue, Amazon Brown, Amazon Black
With a click all cards slide out gradually. The cards will not fall out
RFID protection. Prevents hackers to steal your privacy and credit card numbers
References: Secrid RFID protecting Wallet