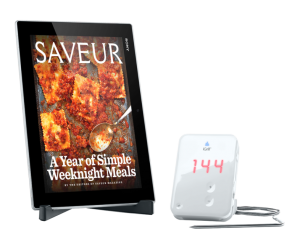 Renovating your home's kitchen is a big task. I compare it to when Star fleet has to renovate the USS Enterprise (NCC-1701). A complex task of much time, money and labor.
Why do I bring this up. Well A friend of mine is renovating his kitchen. In addition to selecting the right tiles, paint color and other aesthetics, today's renovation includes choosing the right technology accessories.
Ensuring that your fridge, stove are WiFi aware and socially connected are basic requirements. One of the newest considerations is the Kitchen tablet. My choice for this kitchen accessory is the Kitchen Edition of the Sony XperiaTablet Z. Not only is it Water and Dust Resistant. You can literally wash away spills. The Xperia can be immersed in up to 3 feet of water for 30 minutes. The Xperia is also WiFi, Bluetooth and NFC aware and comes preloaded with cooking apps including BigOven 250,000+ Recipes and Grocery List; Evernote® Food; Food Planner Pro; iGrill® Pro; Out of Milk Shopping List.  The Xperia comes with a foldable stand so it is easier to read recipes on the kitchen counter.
The only challenging feature this blogger sees with the tablet is that it only comes in a white trim, which may be a issue depending on your kitchen's color scheme. Overall, however the Xperia is a wonderful enhancement for your kitchen. Its a technology mixture of Chef Ramsey meets Captain Kirk.
Features
Dimensions (Approx.) : 10.47 inch (266 mm) Width x 0.27 inch (6.9 mm) Height x 6.77 inch (172 mm) Depth
Weight (Approx.) : 1.09 lbs (495 g)
Screen Size : 10.1 inch, Resolution : 1920 x 1200
Color : White
Operating System : Android™ 4.2.2 Jelly Bean
Processor Type : Qualcomm Snapdragon
Battery Type : Lithium polymer (internal)
Battery Life (Approx) : Video playback – 10 hours; Web browsing with Wi-Fi – 8 hours
Wireless: Bluetooth® v4.0, Wi-Fi 802.11a/b/g/n, NFC
Ports: USB 2.0, Micro SD, Stereo mini jack
References: Sony Xperia® Tablet Z: Kitchen Edition