Gizmo readers, do you like to make videos? Do you like money and prizes? If the answer is YES, then you will like this. In addition to creating great Dash Cameras, our friends at PAPAGO! are having a Video Contest this month with spectacular prizes.  All you have to do is your best George Lucas imitation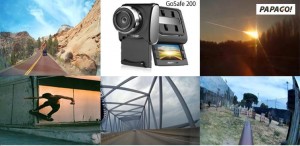 The rules are simple:
Create a story board of your video idea via Facebook, Twitter or YouTube
If they like your idea, PAPAGO! will select three lucky finalists and give them a GoSafe 200 DashCam.
You then use this DashCam and your creativity to develop an original video, between 1 to 2 minutes long and bring your storyboard to life.
Out of the three finalists PAPAGO! will then select one winner who will get a $400 gift card of their choice.
More details about the rules and guidelines can be found on the PAPAGO!'s web site.
Gizmo readers, you can submit your story board idea on PAPAGO!'s web site and more information can be found on their YouTube link.