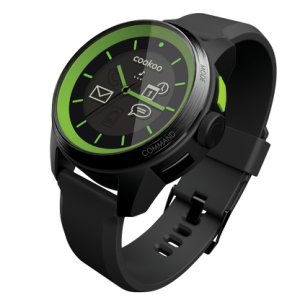 I've been looking for a smart watch for my sister.  Given that she is very active outdoors, the watch has to have the ability to be rugged, weather proof but yet connected to her phone. Having researched a variety of options, I believe I found the gadget that will address my sister's needs.
The new COOKOO smart watch is a sleek and sexy high tech watch that connected via Bluetooth to your IOS or Android phone. The COOKOO has a variety of notifications including:
Incoming Call and Missed Call
Incoming Caller ID or number (*supports in Latin characters only)
Email
You can also trigger some remote phone actions from the  watch including the phone camera, find your phone, music control, and mute incoming phone calls (Android only). As expected the COOKOO is fully integrated with some of the social media sites such as Facebook, Twitter, Skype, Line, WeChat, WhatsApp.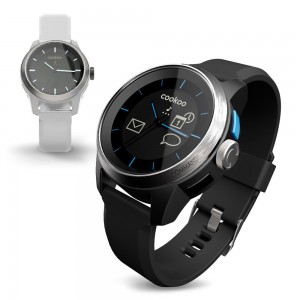 Although technologically astute, this device is a watch, firstly foremost.  It has be designed to be worn indoor and outdoor, this watch is water resistant up to 10 atmosphere (ATM). Although each ATM denotes 10 meters of static water-pressure, the COOKOO is suitable for recreational surfing, swimming, snorkeling, sailing and water sports but NOT suitable for diving. For all our triathlon friends out there, this watch is perfect for training.
The COOKOO does not need to be charged providing you with uninterrupted power for months. Since it uses a standard 1 x CR2032 battery, it means that you can easily replace the standard cell button battery.

Stay tuned Gizmo readers, I'll let you know if the COOKOO survived my sister's workouts…
Features
Dimensions: 260 mm x 25 mm x 15 mm
Time Display: Analog and Digital Display
Colors: Black, Silver, White, Khaki, Eggplant, Blue, Green, Purple
Social media: Facebook, Twitter, Skype, Line, WeChat, WhatsApp and more
Battery charge: does not need to be charged. Bluetooth® Smart technology allows COOKOO to run on a conventional button-cell battery
Water resistant: up to 10 ATM
Battery: 1 x CR2032 battery (installed)
Apple Compatibility: iPhone 5s/5c/5/4s, iPod Touch (5th Generation), iPad mini, iPad (3rd, 4th generation) running IOS 7
Android Compatibility: HTC One, Samsung Galaxy S5, S4, S4 Mini, S4 Active, Note 3 & 2
References: The New COOKOO Smart Watch