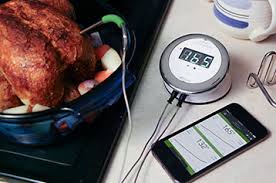 Watching the Master Chef on television I've began to realize how easy it is to under cook food.  Looking on line I believe I have found the perfect solution to this quandary.  I wonder if Chef Ramsay would approve of using it?
Here is a great device that I purchased for myself and (shh) for my mother. A Smart Kitchen Thermometer created by our friends at iDevices® is Bluetooth (4.0) enabled. Compatible with many Apple and Android devices this thermometer alerts you when your food is ready.
To use the Thermometer simply insert the kitchen probe into your meat, select the type of meat in the iDevices app and insert your food in the oven. You can customize the app to receive Min/Max temperature alarms.
The magnetic mounting allows you to place your thermometer at the perfect angle to view. For that busy kitchen, the app can monitor up to 4 probes simultaneously.
A wonderful kitchen gadget for yourself or your mom. Just make sure you don't tell my mom and spoil the surprise.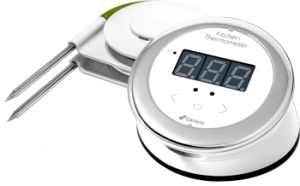 TECHNOLOGY SPECS
Dimensions: Length: 3.75 in (95.2 mm) x Width: 3.25 in (82.5 mm) x Height: 2 in (50.8 mm)
Weight: of device: 5.9 oz (167 grams), of probe and wrap: 2.6 oz (74 grams)
Batteries: 2 AA Batteries (Included)
Connectivity: Bluetooth Smart (4.0),
Range (45 meters)
IOS Compatible with iPad Mini, iPad 3 and newer, iPhone 4s and newer, iPod touch 5th gen and newer
IOS Software: Requires iOS 7 or newer
Android Compatible: with many Android phones
iOS Compatible
Magnetic Mounting
References: iDevices Bluetooth Smart Kitchen Thermometer