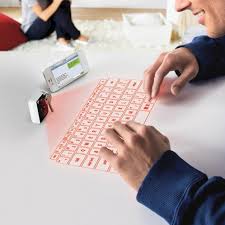 In university, students are often real-estate challenged. Whether it be having little space in your cramped dorm or apartment, or the amount of space you have to work in the classroom or library or even the amount of room you have to work on your assignment on the bus or train trip home.
Here is a device from our friends at CTX Technologies that will help to address this issue. The VK200 is a virtual keyboard for your phone, tablet or PC. It projects a standard 78 key QWERTY keyboard onto any flat surface. small and light enough to fit in your pocket, purse or backpack, you can take the VK200 anywhere.
This device works with your Laptop/ desktop PC running Windows XP/Vista, 7 or 8 or Mac OS device. It also works with Android (2.0+), iPhone 3GS/4+, iPad (IOS4) and Blackberry Playbook tablets.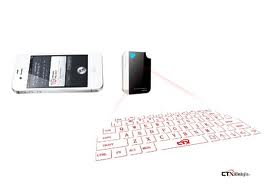 Using the VK200 is quite easy. You can either connect the Virtual Keyboard via your USB port or pair with it via Bluetooth.  The VK200 has also a Mouse mode that allows you to also use your finger as a mouse.
The battery life and size of this device also makes it great for those long trips home on the bus or train, or even when your traveling on the plane.  The VK200 has a rechargeable Lithium Ion battery that lasts up to 180 minutes and can charge via your USB port.
Features
Size: 16mm depth x 42mm width x 62mm height
Keyboard Layout: Full sized QWERTY
Battery: 700mAh Rechargeable Lithium-Ion
Battery Life: ~180 minutes
Connectivity: Bluetooth 2.1 HID, USB 2.0
References: CTX Virtual Laser Keyboard for your Smartphone/Tablet/Computer