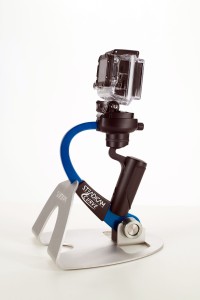 Gizmodians, just passing you some information from one of our readers.  Great news, our friends at the Tiffen Company have just announced that the Steadicam Curve for GoPro Flies is now available in selected stores.
For all of our outdoor enthusiast readers who have never heard of the Steadicam Curve. This dynamite of a gadget is a handheld mechanical stabilization device that will help to ensure that even when you are moving, your photo is not. Simply put, it provides isolation from shaking and vibration.
For you weekend warriors the Steadicam Curve is great for getting those perfect shots while skiing, snowboarding, canoeing, white water rafting, or even for a simple walk or run.  At about 6⅜" in height it is not small enough to put in your pocket but small and compact enough to put in your bag.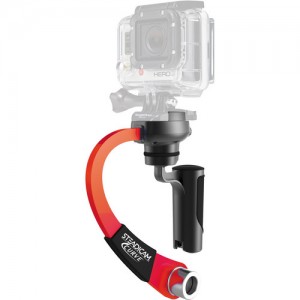 The Steadicam Curve is very light weight, at about ½ lb it is made from a durable aluminum frame. The Steadicam Curve is compatible with all GoPro® HERO®, GoPro HERO2® and GoPro® HERO3/3+® cameras and is available in blue, black, red and silver.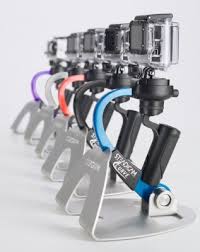 Features
Height: 6⅜"
Weight: ½ lb
Material: Durable aluminum frame
Compatibility: GoPro® HERO®, GoPro HERO2® and GoPro® HERO3/3+®
Fine tune adjustment knob for precise balance
Collapsible handle for compact storage and portability or for use as a GoPro® hand grip
Colors: Black, Blue, Red, Silver
References: Steadicam® Curve® for GoPro®