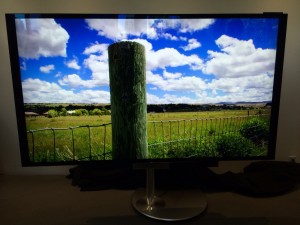 Last night we were privileged to witness the arrival of something special in Canada. The BeoVision Avant 85″ Ultra HD TV is the latest in exquisite viewing pleasures for your home or office.
Brought to you by Bang & Olufsen, the Danish company that is synonymous with "High Tech Elegance", the BeoVision Avant is a luxurious experience for your senses from start to finish.
Your experience in TV nirvana would start with your eyes gazing on the the sleek, stylish and well designed details of the modern ultra-slim and razor-thin aluminum framing and precision engineered glass. The glass on the BeoVision Avant has been treated on both sides with anti-reflection coating to reduce distracting and unnecessary reflections from hitting your TV screen. The 85-inch version of BeoVision Avant features cutting-edge direct type LED with 2D local back-light dimming.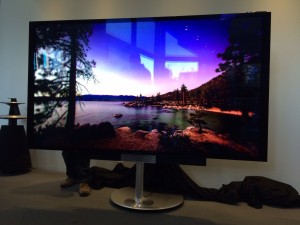 The optic revelation would be extended as you witness the magical experience of the movement of the floor and table stand elevate the TV to your perfectly programmed height and gasp at the speakers move and reveal the 85″ wonderous screen. The Avant Screen has an automatic Picture Control that adjusts to the lighting conditions within the room.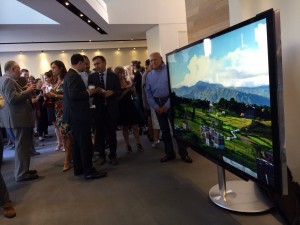 Of course no Bang & Olufsen technological experience would be complete without the hair raising, better than cinematic surround sound. This Ultra HD (4G) Television seamlessly integrates sound and picture from the invisible integrated 3 channel speakers built into the BeoVision Avant.
Outside the TV, the Avant has addressed many of the minute details such as providing a single elegant remote control that runs all other media devices including your DVD, Blu-ray, NAS, Set-Top Boxes or Apple TV and some other not so media related devices such as the fireplace alarm and curtains.