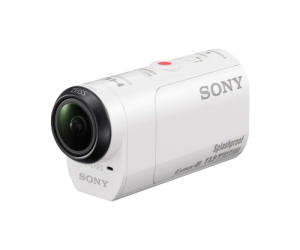 At the Sony show in Canada, last year I was lucky enough to check out the Sony Action Camera. This camera is an excellent device, however I found it to be a little bit too large and bulky to mount on your helmet.
Most likely Sony heard this feedback from others also, as it has now released the Sony Action Camera Mini.The Mini is 30% smaller that its predecessor. At the size of the length of your fingertips and approximately 2.2 oz (with the battery or 1.7oz without) the camera is a lot lighter and smaller.
However many of the durable self preservation options of the original Sony Action Camera are still built into this dynamo of a digitized device such as being dust proof, waterproof and shockproof.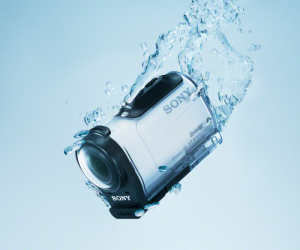 Sony has also maintained also its SteadyShot Image Stabilization and Interval Recording features which I found to be very important for action sports such as biking, snowboarding and skateboarding. It makes it easier to videotape or take stills when you don't have both of your hands available.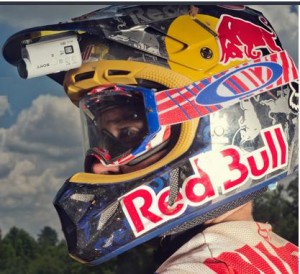 A cool add on to consider with purchasing the Sony Action Mini is the live-view remote feature which comes in handy. When using Live View Remote you now have the option to preview, frame your shot and change shooting modes. When bundled with the Action Mini it will cost you a penny under $350.
Sony also have other accessories for the Action Cam including the Headband Mount and Chest Mount Harness that allow you to get unique and different angles for your shots.   I can't wait to get my hands on the Sony Action Cam and take it out for a spin.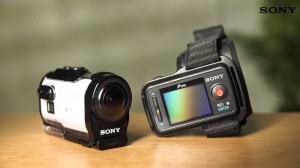 Features
Dimensions : Approx. W 31/32 x H 1 7/16 x D 3″ (including supplied battery)
Weight: Approx.2.2oz (63g) (NP-BY1(supplied battery))
Color : White
Resolution (Video): up to 1920×1080
Resolution (PHOTO): approx.11.9 Megapixels 16:9 (4608×2592)
Video File Format : MP4: MPEG-4 AVC/H.264 XAVC S format: MPEG-4 AVC/H.264
Audio File Format : MP4 : MPEG-4 AAC-LC 2ch XAVC S: LPCM 2ch
Still Image File Format: JPEG
Media Memory Card Type : Micro, Micro SD/SDHC/SDXC, XAVC S Micro SDXC
Battery: Rechargeable NP-BY1 3.7V (battery pack)
Battery Life: Approx. 2h 25min
Power Supply: DC 5 V 500 mA, USB 1.5A
Connectivity: Wi-Fi 802.11b/g/n , NFC
Features: Image Stabilization, Interval Recording, Self-timer
References: Sony Action Cam Mini