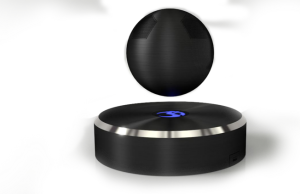 Having received an email from one of our readers about a "floating speaker" I was very skeptical. However having seen the video, I can say i was truly amazed in watching the world's first levitating speaker.
Created by the engineers at OM Audio, this portable speaker is no illusion conjured by a Las Vegas magician, however I can attest that the visual and audio experience is truly mystifying and magical.
Currently in the prototype development the OM/ONE is 3.6″ diameter and floats through magnetic levitation an inch off its base. The audio speaker of the OM/ONE is equivalent to other Bluetooth speakers with a 3-watt RMS amplifier.
Thanks to Bluetooth 4.0 Smart technology, you have the ability pair two two OM/ONEs for true stereo sound. Music emitting from two floating balls is definitely more mystifying and twice the fun.   The OM/ONE also doubles as a great communication device for answering calls or conference calling with built-in Type 1 Microphone. A cool office device that will amaze your friends and co-workers.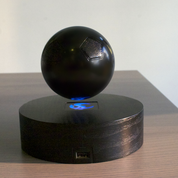 The OM/ONE is currently only online for pre-order, but is expected to be available in December 2014 which makes it a great gift consideration for Christmas.  If you are considering participating in the crowd funding activity then you should jump in with your conscience.  A portion of the proceeds from the crowd-funding campaign will go to Immunity Project, a non-profit initiative dedicated to developing a free HIV vaccine.
Features
Audio: 75mm audio driver
Microphone: – Built in
Controls: On / Off, Volume, Pairs / Disconnects, Answer / Hang Up
Size: Speaker- 3.6″ diameter, Base – 6.3″ diameter x 1.6″ height
Weight: Speaker – 0.75 lb, Base – 1.3 lbs
Power: 12Vdc (power cable included)
Battery: Rechargeable Lithium-ion
Battery Life: Up to 15 hours of continuous play
Connectivity: Bluetooth v4.0
Range: up to 33 feet
Status: Pre-order, available December 2014
References: OM/ONE levitating speaker