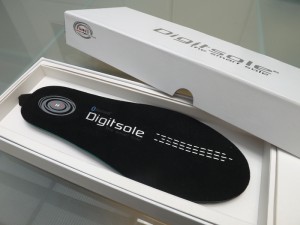 One of the biggest trends for 2014 has been wearable technology. In January at the CES we were witness to smart gloves that provide Bluetooth functionality for your telephone. We also saw this phenomenon continue with the recent announcements of numerous Smart Watches and jewelry at the IFA in Berlin.
As to extend this trend further down to the tip of your toes is the Kickstarter campaign for the Digitsole smart sole. As with most padded sole, this device made out of Neotech, Poron TX3 and Soft Touch PU provides comfort and support for your feet.However what distinguishes this sole from the norm is its capabilities to warm your feet. For most of us in the Northern hemisphere (where already we have seen snow flurries in Alberta) this will be a heavenly gift for winter. Be warned that the maximum heat temperature it can heat to is 104°F or 40°C.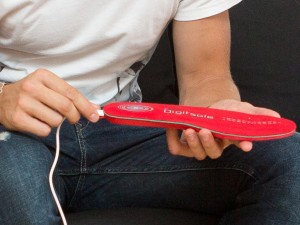 The Digitsole is water resistant (which does not mean you can go swimming with it) and fits shoe and boot sizes 36 to 46 (European) or the North American equivalent of sizes 4 to 11.5 (Men), 5.5 to 10 (Women).  It is powered by a Hi Cap USB Rechargeable  battery which lasts from 7 hours to several days (depending on circumstance and usage).
The Digitsole also pairs with your smartphone via Bluetooth 4.0 and will help you to track how many calories you burned in your day and other fitness conscience stats.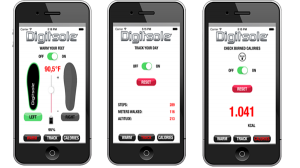 Currently if you want a pair or two of the Digitsole, you will either have to partake in the online Kickstarter campaign, or wait until January of 2015. Early Bird packages for Kickstarter backers start at $99.00
Features
Colors: Initial release black
Available Sizes: EUR 36 to 46
Measurements: 0.5 inches (13mm) at the heel and less than 0.25 inch (5mm) at the toe
Weight: 3.5 ounces (100 to 120 grams)
Materials: Neotech, Poron TX3, Soft Touch PU
Connectivity: Bluetooth 4.0
Maximum Heat Level: 104°F (40°C)
Digitsole Software OS: Android and iOS
Battery: Hi Cap USB Rechargeable
Battery Life: Depends on usage, from 7 hours to several days
References: Digitsole Smart sole