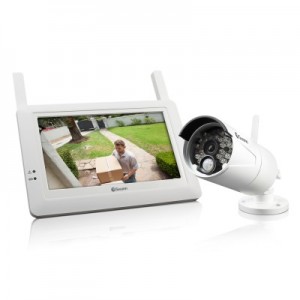 Having a home security system has become a key tool in order to protect our home and family. However unfortunately security systems are limited in what they can provide.  A colleague of mine advised me to combine the robustness of your alarm system with security camera recordings. High-resolution video and audio recordings let you capture everything that may occur to your home or car. That is the reason why I have decided to enhance my security options by purchasing and installing wireless cameras for my home.
One of the systems I am looking into is the Swann ADW-410 Digital Wireless Security System Monitor and Camera Kit. In a nut shell it is a set of HD cameras that connect via wireless encryption to a 7″ LCD. You can also utilize your (IOS or Android) smart devices to monitor the cameras.
The pro's I like about the system is
The video footage is HD720P. It is very important to have clear information when you are providing evidence for either police or insurance claims
you can view up to 4 cameras at once
The connection between the monitor and camera are wireless
Video recording modes are manual, scheduled and motion detect and record
The camera works and records day and night
However there are a few concerns I will have to take into consideration. The first being, the kit only comes with 1 Camera, so an additional investment of capital will be required to purchase 3 other cameras. Secondly the maximum wireless range of the camera is 165 feet. I am not sure that this would be sufficient distance between the camera and router. Last, but not least, the operating temperature of the camera is between -10°C ~ 50°C / -14°F ~ 122°F. Since it is not uncommon here in Canada for the temperature to hit well below the -25C, this may be a show stopper.
Gizmo readers, I am not quite sure of which direction to go with my acquisition. However I will let you know if I chose to go with this system or I find something else that is better.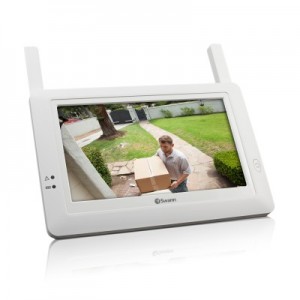 Features
7" LCD touch-screen monitor
Wireless Range: Up to 165ft / 50m
Video Format: 720p HD
Day/Night Mode: Color during day/ switches to B&W at night
Viewing Angle: 60 degrees
Night Vision: 40ft / 12m
Material: Aluminum body construction
1 Way Audio – hear what is happening
Secure Digital Transmission
Power: DC 9V
External Storage: max 32 GB MicroSD Card (not supplied)
References: Swann ADW-410 – Digital Wireless Security System Monitor and Camera Kit