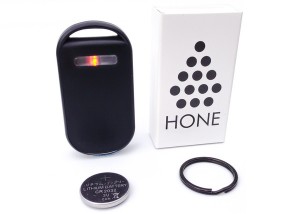 Some of the challenges or mysteries we face today are the same problems we faced decades ago. Take for example take the common but frustrating problem of finding your keys. Many times each of us have been slowed down by trying to find our keys. Well our friends at Hone have come up with a solution that will solve the "Great Key Mystery".
The Hone is a digital device that utilizes the power of Bluetooth (4.0) low energy and IOS to locate your keys. Installation of the device is truly trivial. Simply attach the Hone to your keys, download the IOS app and you are ready to go.
To find your keys, simply press the FIND button and the key chain will light up and audibly vibrate. For the hard of hearing (like me), you can use the Hone proximity sensor to let you know if you are getting closer or moving farther away from the device.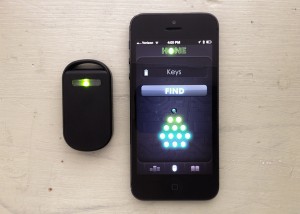 You can configure the app and your phone to pair with multiple Hones at a time. Be warned that the Hone is limited to ~150 feet distance.  A wonderful digital solution to a problem that has plagued generations.
Features
Dimensions: 6x3x1cm
Weight: 6 oz (with battery)
Range: 150 feet
Battery: CR2032
Battery life: approximately six months
Compatibility: iPhone 4S,5, 5c, 5s, iPad 3, 4, Air, mini and Mini with Retina display.
References: Hone Key finder