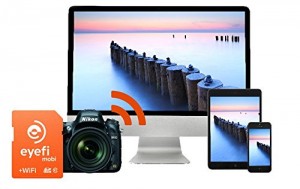 The only thing better than a great device, is one that is enhanced by a gadget. Created by California based Eyefi, is a Wireless SDHC card that will transform your digital camera into a networked camera.
The Mobi SDHC card intelligently enables your camera to transfer photos automatically to your PC, Mac or wireless Tablet or Smart phone.
The Eyefi Mobi activates WiFi only when there are new picture to transfer. It seamlessly upload photos (JPEG, RAW) and videos directly to your computer through a secure and encrypted 802.11b/g/n WiFi link. It is available in 8 GB up to 32 GB sizes.
The great thing about this device is that you can send photos to your PC or Mac as soon as you take them. No scrambling with cables and removing cards and you (or your assistant) can start editing them while you continue to take more photos.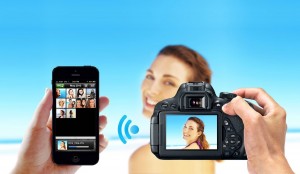 Although it is September, it is not too early to start thinking about Christmas. So perhaps a wonderful Christmas gift or stocking stuffer.
Features
Dimensions: 6 x 4 x 0.4 inches
Weight: 0.3 ounces
Communication: WiFi b/g/n
Distance: Transfers up to 90ft outdoors/45ft indoors
Wi-Fi Security: 802.11b/g/n, Static WEP 64/128, WPA-PSK, WPA2-PSK
Capacity: 8 GB, 16 GB, 32GB
Compatibility: iPhone, iPad, Kindle, Android, Desktop/laptop
References: Eyefi Mobi Wireless SDHC Card