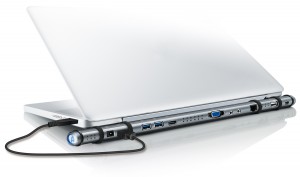 Here is a cool space saving device. Created for both Mac and Windows the Ultra Docking station by J5Create is a compact accessory to enhance your computing power.
Lightweight (138g) this device can be used at home, in the office or taken on the road.  Ten expansion ports ensure all your needs are met with a single device.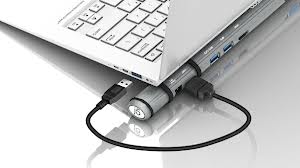 The Ultra station provides you with the ultimate configuration by enabling to clean up your device connections by simply having a USB connection to the Docking station and attach all your keyboard, mouse, network, audio and other USB 3.0 and 2.0 peripheral connections to the docking station. The Ultra Doc also enables you to add another display via HDMI or VGA.
Ultra Simple, ultra cool.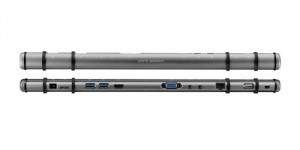 Features
Dimensions: 16.5 x 5.5 x 2.2 inches
Weight: 138g
Material: Aluminum
Video: VGA, HDMI
Network: 0/100 Base-T Ethernet RJ-45 connector
Audio: 3.5 mm stereo audio in & audio out
Upstream Port: USB 3.0 A type Female Connector
Downstream Port: 2 x USB 3.0, 1 USB 2.0 (type A type Female Connectors)
Card Reader: SD/MMC, MicroSD, Memory Stick Slot
Mouse/Keyboard port: USB 2.0 miniB type
Power Adapter: Input: AC 100-240V, 50~60 Hz
Power Adapter: Output: DC 5V/4A
References: Docking Station for Mac and Windows by J5Create