Working out with technology has its challenges. Take for example the simple sports staple of listening devices. From personal experience I have had challenges with many earbuds. Whether it be comfort, quality or durability, many devices have broken as a result of not meeting my standards.
That is why I was happy to read about the Jaybird Bluetooth Bluebuds X Sports Earbuds. These ear buds are very comfortable and sweat resistant. Jailbird leverages Liquipel Sweat Repellant Nano Technology to ensure that your workout does not hang around your earbuds afterwards.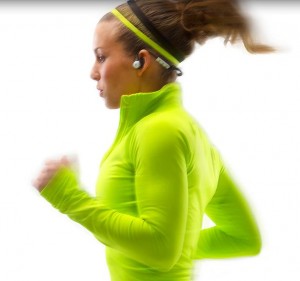 The Bluebuds X are well engineered. From the X-Fit™ design that allows you to wear them over the ear (and the cable behind the head) so that they can hang comfortably while working out. You can rest assured that these buds will remain in your ears even when you are performing simple (such as running) and more complex (ie interactive sports) activities.Made out of durable the tangle-free cable , this sports accessory is flexible enough to fit around your neck without bending and breaking.
Bluetooth lets you connect to  the Bluebuds X from a distance of 30 feet to your phone, tablet or music device. The Bluebuds X also has an inbuilt MEMS omni-directional microphone which allows you also to leverage these buds to answer calls while you are running.
The initial configuration of the Bluebuds X is easy as pie. Just put on the headphones, power them up and leverage the Jenna system to configure and pair the device. In addition to basic music controls (ie Play/ Pause, Next , Back) you also have phone controls such as Call Answer, Call End and Reject Call functions.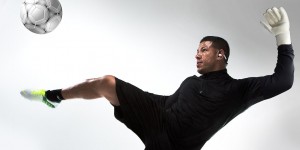 From a power standpoint, the battery on these earbuds will last for up to 8 hours of continuous usage. Once you are ready to charge them, flip the cap off the end and charge them directly off the USB charge port.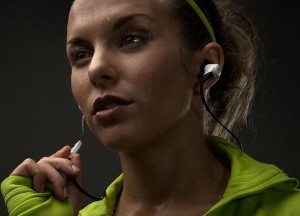 Features
Dimensions: Width: 22 mm x Height: 29 mm x Depth: 13 mm
Weight: 13.8 g
Colors: Midnight black, storm white
Connectivity: Bluetooth
Battery: Lithium Polymer
Battery Life: 8 hours (continuous play), 250 hours (standby time)
Power: DC 5A, charge via USB (included) or DC 5A
Music Controls: Play/pause, next, back
Phone controls: Call answer, End Call, Call Reject
Pairing: Maximum 8 Paired Devices
Noise-isolation: Passive
References: Jaybird Wireless Bluebuds X Sports Earbuds