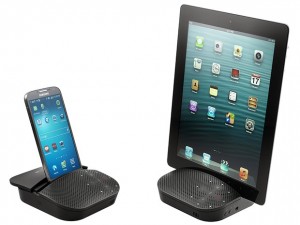 Having replaced my legacy land-line phone technology with either mobile or VoIP applications I have been on the lookout for a speakerphone that will provide me with land-line type sound quality and will support the hardware that will run these apps.
In the running is a the P710e Speakerphone by Logitech. This small, lightweight device can be used by your PC, tablet or even mobile device.Simple dock your laptop or tablet into the integrated stand and establish a connection to the speakerphone. Connectivity to it is via Bluetooth, NFC, USB or legacy audio 3.5mm jack.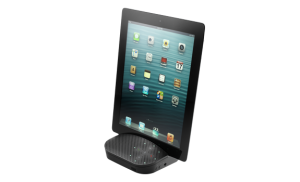 Logitech provides you with small features that will enhance your user experience. Whether it be enabling you to fine tune the sound quality with advanced DSP technology. Or the acoustic echo and noise-cancelling microphone that will filter out and optimize background noise. This feature is wonderful for loud office work environments such as mine. From a listening experience the wideband audio almost makes you feel like the person you are talking to is in front of you. Logitech calls this feature "life like communication".
Although the P710 can be charged and operated via the USB or AC power adapter, the battery life is a whopping 15 hours of talk time. A great gadget for your office in work or at home.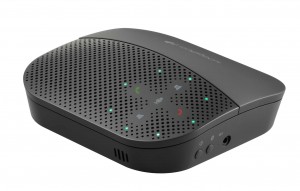 Features
Dimensions: W x H x D 4.75 in (120 mm) x 4.75 in (120 mm) x 1.5 in (40 mm)
Weight: 9.7 oz (275 g)
Omni-directional microphone, 360-degree coverage
System Requirements: Windows® 7 or 8 (32-bit or 64-bit) or Vista, Mac OS X 10.6 or later, Linux
Connectivity: Bluetooth, NFC, USB, Audio 3.5mm jack
Battery: 15 hours of talk time, USB charging
References: Logitech Mobile Speakerphone P710e