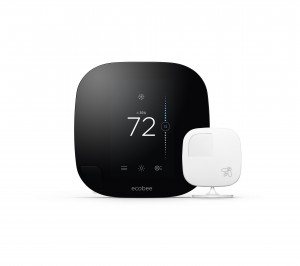 Last weekend with it being cold enough to turn on the furnace, fall was officially welcomed into my house. Unfortunately, having a "traditional thermostat" I still run into the same problem throughout the year. Some rooms are warmer and others colder than others because my furnace adjusts the heat throughout the house based on feedback from the room of the thermostat.
Reading online there are some very unique high tech solutions to address this problem. Our friends at Ecobee have announced the Ecobee3 a smarter Wi-Fi thermostat that adjusts the temperature based on feedback from multiple remote sensors.
The thermostat is very easy to install. Ecobee indicates average installation times are under 45 minutes. After installation you configure your thermostat with your temperature settings and then you pair it up with the remote sensors.
Th Ecobee3 pairs easily with up to 32 remote sensors, which works for my home (since I have a lot less than 32 rooms). You can configure the sensor information with standard or personalized names. Ecobee3 is Wi-Fi enabled which means you can get a live weather 5 day preview on its 3.5″ full, color LCD touch screen. Most importantly you can connect to the Ecobee3 remotely via your smartphone, tablet, or computer to adjust settings remotely.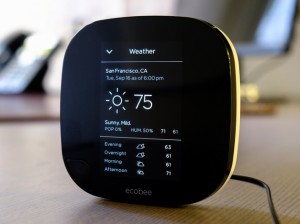 The remote sensor(s) design resolves basic flaw inherent to most smart thermostats, by eliminating heating and cooling systems from running unnecessarily. From a cost perspective, this thermostat pays for itself with an average of 23% average annual savings.
Smart, easy to install and use, remote access and saves money. What else could you ask for.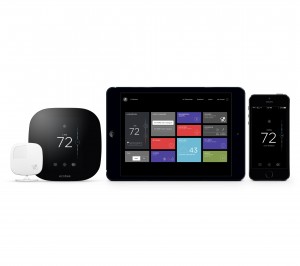 Features
Thermostat Dimensions (H x W x D) 3.93 in / 100 mm x 3.93 in / 100 mm x 0.9 in / 22 mm
Display: 3.5" full-color LCD touch screen, 320 x 480 pixel display
Connectivity: 802.11 b/g/n
Security: WEP 64, WEP 128, WPA and WPA2 encryption
References: EcoBee3 Smarter Wi-Fi Thermostat with remote sensors