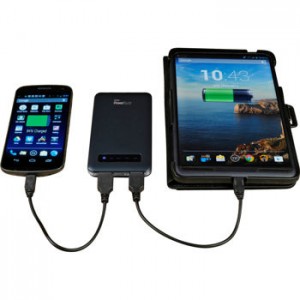 Need power on the go? Then try the Royal Power Burst portable 8600MAh cell phone and tablet charger. The charger is the size of a smart phone and provides up to 5 full recharges on a single charge. It also is dual outputs for charging 2 devices at the same time. This comes in useful when you are traveling and have 2 cell phones to discharge.
It has a lithium polymer battery and can charge a cell phone in approximately 60 min. and can provide 15 extra hours of tablet operation. The charger can charge iPods ereaders digital cameras as well as MP 3 players and passed recharging allow discharging of the battery and your mobile device at the same time.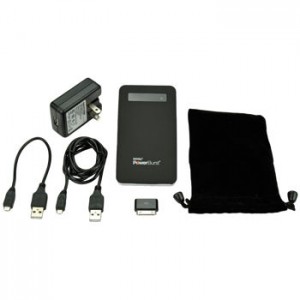 The device includes he USP microbe charging cable as well as a 30 pink connective for charging Legacy apple products and an overnight wall charger in the kit available from Costco.
The only downside is that it does not at contain a lightening cord adapter for the new apple products however, the battery does not have any problems charging the new iPhone 5S.
Features
Compact design
Provides up to 15 extra hours of tablet operation
Battery recharger up to 500 times
Dual charging
LED indicator of battery life
References: Royal Power Burst portable 8600MAh cell phone and tablet charger