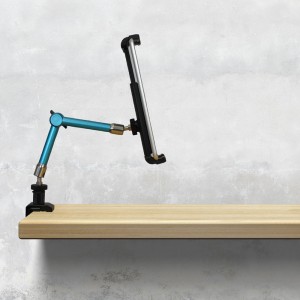 Many aspects of our lives have been transformed by technology. Take for example something as basic as cooking. Our appliances (ie stove, dishwasher, fridge) these days are more technologically savvy. Last night I realized that something as simple as the traditional recipe book has also changed. At one time my cooking library was tens of cooking booklets with recipes ranging from Asian entrees to French desserts.
Today these books have been replaced with my iPad and Wi-Fi. Unfortunately the traditional iPad stand just doesn't work in the Kitchen. Looking for something that will bring my Tablet to eye level and is flexible, I turned to a recommendation of my friends. the iStabilizer tabArm is a articulating arm that can attach to virtually any edge. This enables the cook (in my case the term is used very loosely) to have his or her hands free to be able to cook.
The iStabilier works with any tablet up to 8.25″ (209mm) wide or tall and can hold up to 8.8 lbs of weight. It utilizes a Clamp and Single-point locking mechanism to keep your tablet safe and stable.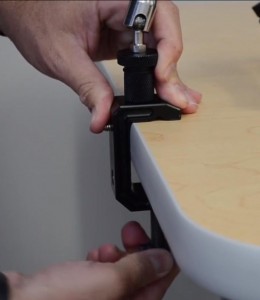 Outside the kitchen this device can be easily detached and leveraged where ever you leverage your Tablet.  The tabArm can be rotated in any angle and can be leveraged for a variety of uses:
In the car to hold the Tablet for the back seat movie watchers
Videographers and photographers – take video or photos of an event or project.
Doctors – requiring hands-free access in the operating room.
Musicians – to view music and lyrics.
Teleprompter for speeches and presentations.
As assistive technology for the handicapped.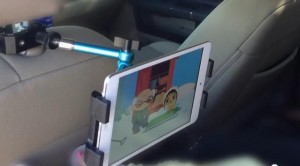 My friend uses his iStabilizer in his garage for his woodworking, while his wife uses it to watch her favorite online show while soaking in the tub.
Features
Compatible with all 7"-10" tablets:iPad, iPad mini, Nexus7, Nexus10, Kindle, and other tablets.
Compact 11" stainless steel friction articulating arm.
Includes 1/4"-20 and Shoe Mounts.
Assembles in seconds – no tools needed.
Single-point locking mechanism.
Mount expands to accept larger tablets, like the iPad and up.
Expands to 8.25" (21cm) wide for smaller tablets, like the iPad mini.
Up to 8.25" (21cm) tall.
Maximum weight load: 8.8 lbs.
References: The iStabilizer tabArm – Friction Articulating Arm for iPads & Other Tablets