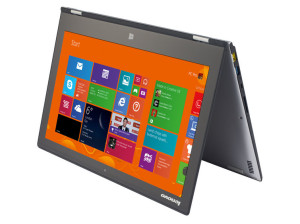 Following the trends of Technology convergence Lenovo has unveiled the Yoga 2 Pro Tablet, the chameleon of Tablets.
Able to be utilized in 360 degree configurations, this device can be leveraged in four distinct  modes: Laptop, Tablet, Tent, Stand.  With a large 13.3″ screen high-resolution QHD+ (3200 x 1800) 10-point multi-touch display and a super fast intel® Core™ i7 process, it is ideal for streaming, viewing and sharing multi-media content.  The Yoga 2 supports Windows (up to 8.1 Pro) version of Operating system and comes with loaded with custom Lenovo software such as Phone Companion, Camera Man, Photo Touch, and Chef .
Lenovo has upped the tablet expectations with accessorizing the Yoga 2 Pro with a built in Pico projector and an 8 watt sound system with a sub-woofer that will convert this small smart device into a intelligent presentation power and impress your customers.
The Yoga 2 Pro has a back-lit AccuType Keyboard which makes it ideal to use in the car or on the plan. And with a battery life of up to 9 hours a the high tech Thin and light (1.39 kg) design, the Yoga 2 is the perfect travel companion.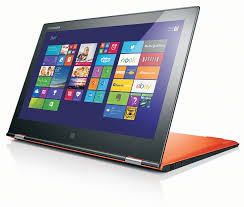 Features
Dimensions: 330 mm x 220 mm x 15.5 mm – Measured at thickest point (12.99″ x 8.66″ x 0.61″)
Weight: 1.39 kg (3.06 lbs)
OS: Up to Windows 8.1 Pro
Display Size: 13.3″ high-resolution QHD+ (3200 x 1800)
Memory: Up to 8GB DDR3L 1600 MHz, on-board two-channel (4GB/8GB)
Battery Life: >=9 hrs Windows 8.1 Idle @150 nit
Webcam: 720p HD webcam
Communications: 802.11 b/g/n, Bluetooth® 4.0
Storage: 128GB / 256GB / 512GB SSD
Connectors: 1 x USB 3.0, 1 x USB 2.0, Audio Combo Jack (headphone and microphone), micro HDMI-out, 2-in-1 (SD/MMC) card reader
References: Lenovo Yoga 2 Pro