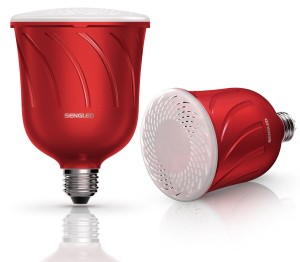 If you are looking to set the mood for the upcoming Halloween and Christmas parties, then here is a suggestion of a device that will help.
The Pulse LED lights by Sengled are light with a built in integrated speaker. This ingenious device allows you to play music and control the brightness on the lamp from your smart phone or tablet.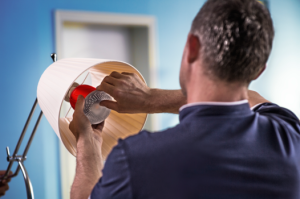 Installation is quite easy. You simply screw in the LED lights into the socket and then pair them up via Wi-Fi or Bluetooth with your Android or IOS device. Now you are ready to send audio (music or sound) to your stereo LED Bluetooth Speakers.  The Pulse App allows you to control adjust light intensity and sound volume and audio equalizer modes.
The current Pulse app allows you to synch up with two Pulse bulbs, providing you with true stereo quality. According to the Pulse site, the next software release is expected to control up to eight speaker bulbs.
Features
Dimensions: 8.8 x 6.6 x 4.3 inches
Weight: 14.9 ounces
Speaker Connection Type: Wi-Fi or Bluetooth Wireless
Peak Wattage: 30
App: iOS and Android
Lifespan: 25000 hours; 22+ years for typical use (3 hours/per day during evening)
References: Sengled Pulse LED-Lights with integrated Wi-Fi Speakers