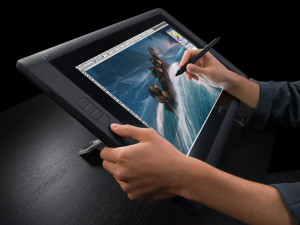 Art and Technology are two elements that seem to be on mutually opposite sides of life's periodic table. However, there are many examples in history where there is an overlap. Take for example Leonardo da Vinci (1452–1519). Known for being an artist inventor and renaissance man, Leonardo's life overlapped both worlds. Flip forward 500 years and we see another example of technological and artistic genius. At ProFusion 2014 in Toronto last week, one of the stellar products I was lucky enough to see was the Cintiq 22HD touch screen.
Created by Wacom, this 1920 x 1080 full resolution touchscreen is targeted to artistic professionals and amateurs alike. Utilizing a customizable Grip Pen photographers, designers, animators can use this LCD touch screen to navigate, edit and touch up artwork.
For most of us, this would be considered to be an expensive toy. However after talking with a handful of artists, graphic designers and photographers at the show, they all agree that this is a must have tool. If you are looking to apply or migrate your artistic skills into the digital platform, then this would make your life a lot easier. Something as simple as having a stand that can be adjusted and rotated up to 180 degrees is a small feature that makes it easier to use this digital artistic pad for many hours. The customizable ExpressKeys are available so you can program in shortcuts. Again, utilizing a program such as Photoshop, it is easier to leverage the shortcut keys than going back and forth between menus.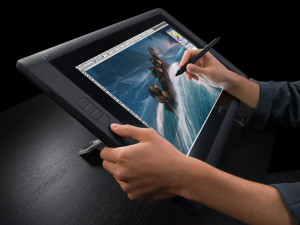 To say this is a HD touch screen would be over simplifying the capabilities. To say it is a large screen tablet would be omitting its artistic and technological tools.
You can utilize Wacom's customizable pressure Pen to create artistic pen and brush effects.
Touch strips for zooming, scrolling, changing brush sizes
2048 levels pen pressure
Compatible to work with both Mac IOS and Windows OS, the Cintiq monitor interfaces via video (VGA or DVI) and USB to your device.
The Cintiq understands standard multi-touch tablet hand gestures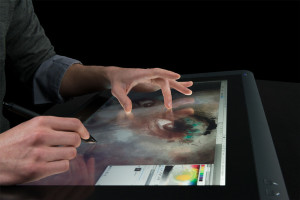 The creative tool is an unorthodox merger between Wacom's most advanced, pressure-sensitive pen, a high quality monitor and multi-touch extremely-sensitive professional artistic tablet. You the creative artist utilize the pen and work on this wide HD touch screen.
With all these amazing features, one would wonder what masterpieces Leonardo would create or invent if he had Cintiq 22HD touch pen display ?
Specifications
Size 25.6 x 15.7 x 2.2 in
Weight 8.5 kg with stand (18.8 lbs.)
Resolution: Full HD 1920 x 1080
Compatibility: Windows, Mac
Screen Size (Measured Diagonally) 21.5 inch
Technology H-IPS LCD
Displayable Colors (maximum) 16.7 million
Aspect Ratio 16:9
Viewing Angle 178° (89°/89°) H, (89°/89°) V
Contrast Ratio 900:1
Brightness 210 cd/m2
References: Wacom Cintiq 22HD touch pen display