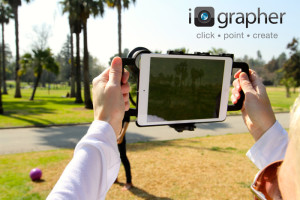 As with most amateur photographers and videographers, my greatest challenge when recording an event can be summarized with the words "shaky" and "blurry".  That is why I was not surprised when I received an email from one of my friends about this great device.
One of the best ways to learn about gadgets is through recommendations of friends and family. The iOgrapher Mobile Media Case for iPad Air is one of these gadgets i learned about by word of mouth. A blogger friend of mine indicated he purchased a Mobile Media Case for his iPad created by iOgrapher that was engineered to address traditional audio and photography accessory requirements.
The iOgrapher is a this light weight case simply clips on to your iPad Air. Both ergonomic and economic in its configuration, it  provides the user with two handles on each side of the iPad Air which will greatly reduce shaking and jittery footage which is often seen with hand held devices.
The top part of the handles can also be used to attach light (flash) and audio accessories (mic) to the top of the case. The bottom of the case can be used to attach your tripod. The front of the iOgrapher is engineered to allow users to attach 37mm (wide, fisheye or capture macro) lenses to its mount area.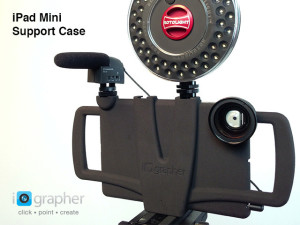 It will be interesting to see if the iOgrapher is up to this bloggers lifelong challenge.  Hopefully this device will be able to transform my "shaky" and "blurry". photographs into "perspective" and "focus".
Features
Dimensions: 12 x 1.50 x 7 inches
Weight: 11.2 ounces
Colours: Black
References: iOgrapher Mobile Media Case for iPad Air