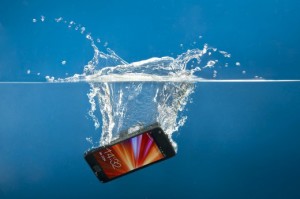 It is well documented on NewGizmoBlog my chronicles with accidentally getting my gadgets wet. Last year many of you may recall my unfortunate encounter with a flash rain storm in an open football stadium and the end result being a dead smart phone.
Having taken a chance on the tried but unfortunately not true internet solution of the bag of white rice on my technology mishaps, I was left in one case with a dead phone and many pictures that I would never recover.   In another incident, i somewhat recovered my laptop from a water spill only to have components (ie the audio port, keyboard) not work.
Unfortunately my stories are not unique. Approximately 22 million Americans soak their mobile phones each year. That is a lot of rain storms, swimming pools, boat trips and (ugh) urinals.
Well lets time travel forward to the fall of 2014. Technology has improved. It is much smaller, faster and smarter.   Good news for us is that the process of technology recovery from accidental water accidents has improved immensely. Colorado company TekDry has introduced a service that will recover your smart device in under an hour. It also works with all smartphones, tablets, laptops and other electronic devices (see below for a list).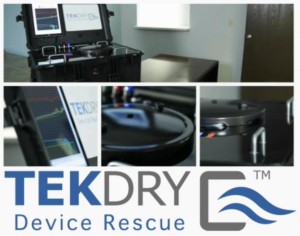 Should you have a water accident, TekDry recommend that you do not attempt to turn it on and remove the battery.  Within 48 hours contact and ship your device to the nearest TekDry depot for repair. The scientific process leveraged by TekDry is quite simple but ingenious. They have created a rescue machine that uses a combination of low pressure and low heat to create a optimal environment to remove moisture.
In order to remove the water, they do not open up your smart (phone, tablet, other) device. They simply secure the smartphone into the TekDry machine holding chamber and then turn on the machine.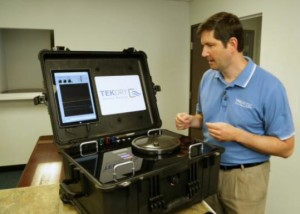 The software sensors within the machine monitor your smartphone while it is going through the hydro-extraction process to ensure the process does not exceed any manufacturer's operating parameters.After 30 minutes the process is complete and your phone is ready to go.  It is that quick, simple and painless.
TekDry is confident that their process will work for your phone and therefore you will only be charged if they successfully recover your phone.
Our recommendation for the next water accident is to put away that bag of rice and engage TekDry. This amazing solution will not only recover your technology device smarter and faster, but will also feed your family (with that bag of rice).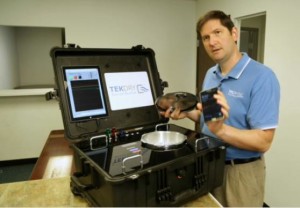 Devices they repair
Smartphones: ANY SMARTPHONE (i.e.: iPhone, Samsung, HTC, Motorola, LG, Google, Amazon, and Nokia)
Tablets: ANY TABLET (i.e.: iPad, Samsung, Google, Amazon, HTC, Blackberry, Motorola, and Asus)
Additional Devices: ANY COMPUTER, CAMERA, KEY FOB, GAMING DEVICE (i.e.: iPod, all Apple MacBook products, and PC laptops
Service currently only available to those within the United States
References: TekDry