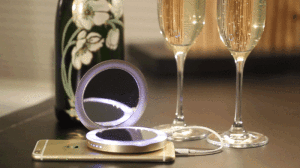 With less than two months until Christmas, here is the perfect gift to consider for that lady in your life. Created by Sanho Corporation, the Pearl is a compact mirror with a built-in USB battery pack.  Available in 3 stunning colors of red, silver, gold, this compact will match almost every outfit in the closet.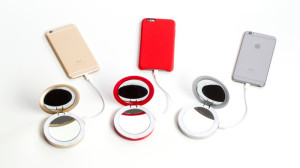 This device is fashionable, lightweight, and easy to use.Most important, it is slim enough to slip into her purse but yet elegant enough to go unnoticed amongst her other accessories.
The Pearl comes with two mirrors, one normal and the other 3X magnified, although it is very thin (at 13mm) it is powerful enough to recharge your iPhone, iPad, Android, other USB devices.
Currently Pearl is seeking funding on Kickstarter. For supporters Pearl will be begin shipping in December 2014 (upon successful Kickstarter campaign).  All Early Bird backers with guaranteed Christmas Eve or earlier delivery (USA only).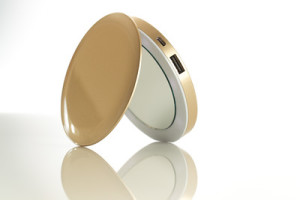 Features
Capacity: 3000mAh
Diameter: 90mm
Thickness: 13mm
Weight: 4.2oz | 0.3lb | 119g
Charge Time: 2~3 hours
Input / Output Power: 5V/1A (via USB port)
Battery Life: Up to 1000X cycles
Battery Chemistry: Lithium Polymer
Compatible with iPhone, iPad, Android, other USB devices
Available Colors: Red, Silver, Gold
References: For More details on Pearl: Compact mirror with built-in USB battery pack