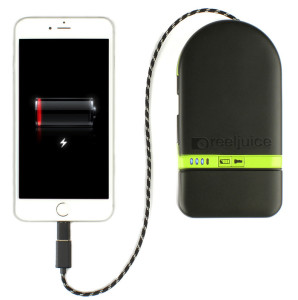 Whether packing to go to work or on a (business or pleasure) trip I run into the issue of bringing unnecessary items, such as a lot of cables to charge my phone, Tablet, camera, computer and even a cable to charge my battery.
Here is a cool device I am thinking about purchasing that will save me (and you) a lot of space in your bag. The Reeljuice Portable Power Solution is a small slim All-in-one ultimate portable power solution that comes with a built-in universal charging cable so that you will not have to pack or try to find the right cable for your gadget.
Available in both Reeljuice 5 or 5,000 mAH and Reeljuice 10 or 10,000 mAH options. Both come with a retractable universal charging 48″ cable. Additional built in features within
the Reeljuice include a micro USB connector, dual usb outputs, folding wall plug and Lightning adapter for our iPhone / iPad friends. The Reeljuice has a LED Power gauge so you will not have to guess how much juice is left in your battery and also comes with a built in 100 Lumen flashlight for safety.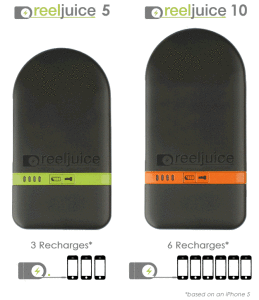 Just in case you were thinking, ReelJuice did not compromise performance in order to make this compact solution. The Reeljuice All-in-one Portable Power Solution charges two times faster than most standard chargers. Created by our friends at Lynktec, this battery bonanza is currently seeking funding on Kickstarter and (cross your fingers) is expected to be available in April of 2015.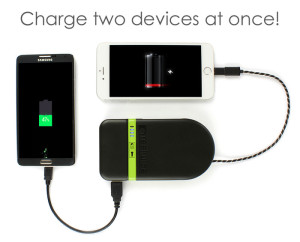 Reeljuice 5 Features
Capacity: 5,000 mAH
Charges: 3 Re-Charges
Cord Length: 48″
Dimensions 14.5 x 7.5 x 2 cm
Weight: 9.1 oz
Status: Seeking support on Kickstarter
Reeljuice 10 Features
Capacity: 10,000 mAH
Charges: 6 Re-Charges
Cord Length: 48″
Dimensions 15 x 7.5 x 2 cm
Weight: 10.7 oz
Status: Seeking support on Kickstarter
References: Lynktec Reeljuice All-in-one Portable Power Solution