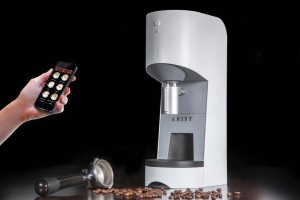 There are certain pleasures in life that stand the test of time. One of these is the pursuit and enjoyment of the perfect cup of coffee. However, what differs across taste boundaries is what defines the perfect cup of coffee for each of us. My South American friends love a very strong coffee, while my Indian buddies enjoy what can be called a Milk Coffee (50 percent milk, 50 percent coffee).  Unfortunately these differences can lead to some very creative discussions on what really is a good cup of coffee.
Here is a device that will bridge the gap between our coffee differences. The Arist Café is a High-Tech barista style coffee machine designed for coffee making amateurs.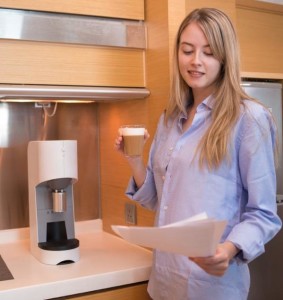 Simply choose from over 100,000 recipes from your start phone and the Arist Café will brew a cup of heavenly goodness. You can also tweak the recipes to your likeness by adjusting and fine tuning components such as coffee strength, milk quantity, temperature etc.  Arist can help you and your friends create the perfect cup of heavenly java by blending a mixture Western and the Eastern hemisphere coffee elements to create a cup of full, rounded flavor goodness.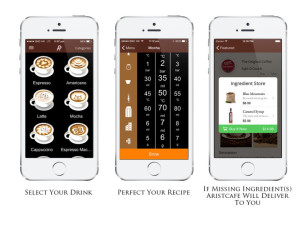 A truly intelligent machine, Arist will watch your (coffee) drinking habits and make recipe suggestions. This smart coffee machine even remembers what your favorite coffee mixture is and can brew it on demand. This option will eliminate unnecessary family spats over how to strong make the coffee and what type of coffee should be made.
Arist is available in two basic black and white colors and a special wood edition. The Arist App will support iOS, Android and Window devices.

Features
Dimensions: 484 mm (h) x 165 mm (w) x 242 mm (d) / 19.05″ (h) x 6.50″ (w) x 9.53″ (d)
Reservoir volume : Milk 33.81 oz, Water 33.81 oz total /Milk 1 Liter (L), Water 1 Liter (L) total
Supported cup height: 203 mm / 8″ (with drip tray removed)
Coffee compartment: each compartment can hold up to 200 g coffee beans, you can expect to brew up to 5 cups of 12 oz cappuccinos.
Drip tray: Removable, can hold waste water up to 33.81 oz or 1 liter (L)
Water filter: Replaceable built-in water filter, depends on where in the world, different kind of water filter will be used
App: will support iOS, Android and Window devices.
Status: Seeking Kickstarter funding
References: More information and where to purchase the Arist Café