Today the old adage "Bigger is Better" doesn't apply to technology. A perfect example of this is Logitech's new Keys-To-Go. This Ultra-portable, stand-alone keyboard is small enough to take anywhere. At a mere 242 mm wide, you can literally slide it in your backpack, purse or travel bag.

Available in 3 traditional (red, blue, black) colors, Keys-To-Go is the perfect companion. Whether on the road, it fits well in today's small airplane seats, or in the constraints of your car, Or at home, Keys-To-Go can be paired it up with your Apple TV, iPad and iPhone via Bluetooth connectivity.
Don't be fooled by the size. Keys-To-Go is covered with Fabricskin which makes it resistant to those accidental spills caused by turbulence or your kids. Just take out a Kleenex or towel and wipe it clean.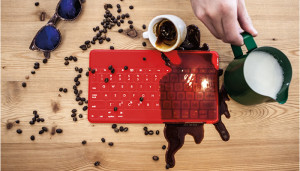 Logitech's Keys-To-Go has proven that "with technology Smaller is definitely Sexier and Smarter"
Features
Dimensions: Height: 137 mm (5.39 inches) x Width: 242 mm (9.53 inches) x Depth: 6 mm (0.24 inch)
Weight: 180 g (6.35 ounces)
Compatibility: Works with all iOS devices including iPad, iPhone and Apple TV
Material: Mechanical keyboard covered with FabricSkin
Connectivity: Bluetooth wireless technology
Battery Life: 3-month battery with battery check indicator light
Colors: Black, Red, (light) Blue
References: Logitech Keys-To-Go, Ultra-portable, stand-alone keyboard