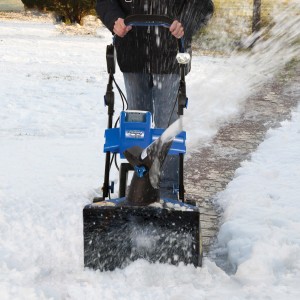 Last night many of you heard how the Northern New York State was walloped by ferocious lake effect snow. In Buffalo, more than 150 centimeters fell on Wednesday with the potential of another 60 centimeters expected today. The snowstorm forced many motorists to ride out the storm sitting in their vehicles on the Thruway.
The storm got me thinking about purchasing a snow blower. Last winter was so bad that I threw out my back from clearing off the snow from driveway.
Here is a great device from our friends at Snow Joe. The Snow Joe iON is a gas-less, oil-less 40-volt cordless, electric single stage brush-less snow blower.
Having utilized friends and family's blowers, I can say by experience that there are a few features about this snow blower I really like. This device does not require you to remember the correct gas to oil mixture. Secondly no pull cord is required to start the snow blower. Other wonderful features on the Snow Joe include a 3W LED headlight, which allows users to remove snow in the dark and a 180-degree auto-rotate chute which allows you to redirect the snow in the direction of your choice.   The Snow Joe iON packs plenty of power with whisper-quiet performance.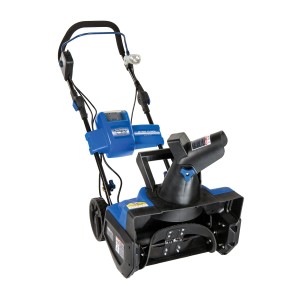 There are two asterisks to consider with this machine:
The 4.0 AH lithium-Ion battery lasts approximately 40 to 50 minutes of continuous use. Which is great for your typical snow removal and a light storm. If you live in an area where the snow comes down for an extended period then you should consider purchasing an additional battery for continuous use.  The battery recharge time is approximately two and a half to three hours.
This single stage snow machine is ideal for removing light and fluffy snow. If you live in an area where you get heavy wet snow, then perhaps you should consider one of Snow Joes alternative snow removers.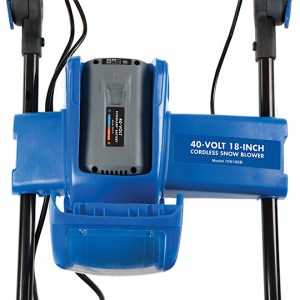 The Snow Joe iON is a great Eco-friendly alternative to the traditional gas guzzling tools of today.
Features
Dimensions: Depth 50″ x Height 28″ X Width 20.5″
Battery Capacity (Ah): 4.0
Battery Recharge Time: 2 ½ – 3 hours charge time with a 50 minute run time
Voltage: 40 V
Chute rotation turning radius (Deg): 180
Headlight: Yes
Weight: 32 lb
Throw Distance: 20 ft
Type of Snow: Light, Fluffy
References: Snow Joe iON Snow Blower w/ Rechargeable Lithium-Ion Battery