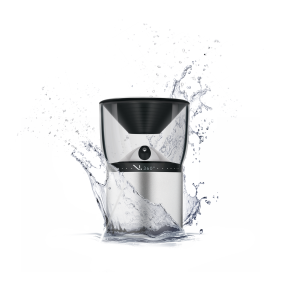 On the eve of Black Friday, like any good shopping elf I have narrowed down my technology list and I am ready to hit the stores.  For one of my nephews his must have gift has minimal requirements, Trendy Tech Gadget, capable of taking a beating from his active lifestyle.
On the top of my list is the VSN Mobil 360-Degree HD Video Camera. This groundbreaking video camera is capable of capturing a 360 degrees of video or still images with a 4K/16 Megapixel imager in full 1080p high definition.
The camera can be used in two modes. Either by installing the app on your phone or tablet to get an on-screen viewfinder or you can use it in standalone mode with the included remote control
At about the size of a Red Bull can, contained in a water sealed chamber this camera is waterproof as well as shock, vibration, dust resistant. This would make the camera perfect for sports such as surfing or skiing.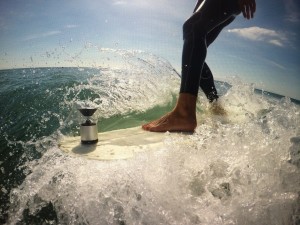 However the high definition camera resolution makes the VSN Mobil 360 more than capable of capturing those special family events (i.e. weddings, birthdays, holiday dinners) in 1080p.  The V.360° iOS and Android app also allows for easy upload to social network or sharing with friends.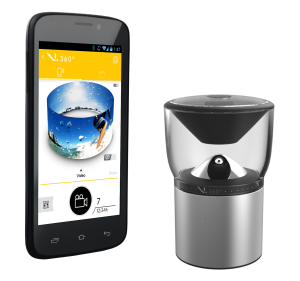 The v.360° 360-degree video camera from VSN Mobil ships today, so you can tick it off your Black Friday shopping list.
Features
Dimensions: 56mm x 102.7 mm
Weight: 250g
Battery: 2610 mAh Li-ion
Sensors: GPS, barometer, altimeter, accelerometer
Viewing Angle: 360°, > 60 FOV, Fixed f/3.0 aperture
Image Quality: 8MP
Video Resolution: 1080 x 6480 HD
Processor: Qualcomm® Snapdragon™ 800 processor featuring up to 2.3 GHz quad-core CPU
Memory: Micro SD card slot
Wireless Connectivity: Wi-Fi 802.11 b/g/n, Bluetooth 4.0
Connectors: HDMI v1.4a with support for 4K UHD displays, Micro USB 3.0 with Super Speed support, Compatible with accessories made for GoPro mounts
OS: Android ™ 4.4
References: VSN Mobil 360-Degree HD Video Camera