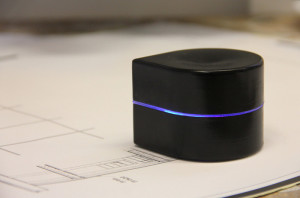 Whether for business or personal flexibility, the importance of technology mobility cannot be over stated. Mobility enables you to have instant access to information, applications and data. At work it is your corporate data, while at home it can be information regarding the security of your house and the safety of your children. Along with mobility, smaller more dynamic technology is required to extend your link and work capabilities.
Our friends at Zuta labs understand the mobility challenge and have created the Mini Mobile Robotic Pocket Printer to provide its customers with a tool to succeed. The Pocket Printer is based on an omni-wheel system that allows it to accurately turn and drive in any direction.
The features incorporated in the design of this mini printer make it the perfect travel companion. It is very small (2/3 size of a pop can), light weight and compatible with Android, IOS, Linux, OSX, Windows operating systems (ie it will work with your laptop, tablet and mobile phones). Utilizing the Pocket Printer is simple. Connect to it via Wireless or Bluetooth protocols and you are ready to go.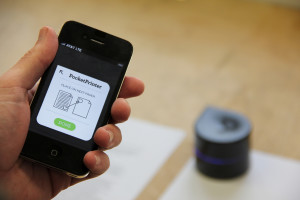 The printer is activated by sliding a hatch at the bottom of the printer which will reveal the inkjet. It will print on any size paper.Properly place and align the corner of the printer with the corner of the paper. Once placed, send the document through our app, and it will start printing. The Inkjet lasts for over 400 printed pages and works with standard HP cartridges. The Pocket Printer works on a rechargeable  Lithium Polymer battery which has a battery life of over one hour on continuous use.  A full recharge can be completed through the USB port and takes approximately three hours.
Features
Dimensions: 10 x 11.5 cm (3.9 x 4.5 in)
Weight: 300 g (10.6 oz)
Battery: Rechargeable Lithium Polymer battery
Battery life: over 1 hour
Battery Charging 3 hours via USB connection
Connectivity: Wireless, Bluetooth, Bluetooth BPP
Print Speed: 1.2 ppm
Connections: 1 x Micro Usb
OS: Android, IOS, Linux, OSX, Windows.
Ink Cartridge: standard HP cartridge
References: ZUtALabs Mini Mobile Robotic Pocket Printer