With the holiday season approaching fast, celebrations with family, work and friends increase in frequency. Unfortunately the opportunities to drink and drive increase also.
Having lost a friend in high school to a drunk driver, I know how devastating the consequences are from drinking and driving. However the reality is that based on the statistics that are released every year by the police and MADD, not everyone hears or listens to the message around drinking and getting behind the wheel.
Here is a really cool little device from our friends at Edge Tech Labs that can provide you with some feedback as to your alcohol consumption levels.
The DrinkMate is a Portable Breathalyzer that provides you with information on your Blood Alcohol Content (BAC).  At approximately 30% smaller in size than a lip balm, this device is compatible with all Android phones. No Internal battery is required as power for this device is supplied from your Android phone via the micro-USB port.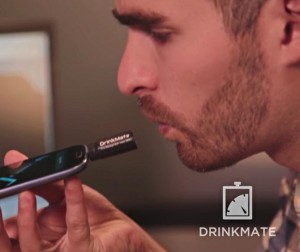 Simply plug the DrinkMate into your phone via the micro-USB port and follow the app's instructions. No touching is required. You simply blow as close as you can to the air inlet on the end of DrinkMate.
Your BAC results displayed instantly. DrinkMate's accuracy is approximately +/- 0.01% BAC at a BAC of 0.02%. If you want to use DrinkMate again or for a friends BAC measurement, Edge Tech Labs indicates a 10 second waiting period is required between tests.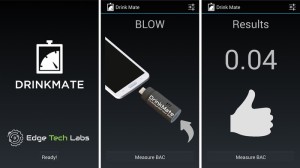 DrinkMate is only a tool and the information you receive should only be taken with a grain of salt.  In all cases, if you have consumed too much alcohol then ask a friend to drive or grab a taxi.
Enjoy the company of friends and family this holiday season.  Have fun and come home alive.
Features
Dimensions: 1.8″ long x 0.62″ diameter
Weight: 0.2 oz
Compatibility: Android phones
Battery: none, powered by your phone's micro-USB port
Status: Pre-order
For more information or to acquire: DrinkMate Portable Breathalyzer