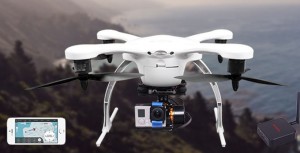 The toughest people to shop for are teenagers. They have outgrown childish gifts and want something cool and technologically trendy. Well you can now rejoice, because we have discovered the next trendy gadget that won't affect your ability to pay the mortgage next month.
The Ghost Drone is the foremost in high tech gadgetry. No assembly required, simply take this device out of the box and it is ready to fly. This drone is ideal for a variety of people including:
Filmmakers & Photographers
Sports Enthusiasts
Travelers & Adventurers
First time & experienced drone users alike
You can fly the Ghost simply by downloading the app on to your iPhone or Android device and connect to it via Bluetooth. On the Ghost Drone there is a small G-Box communicates with the phone through Bluetooth, and the G-Box communicates with the Ghost drone through wireless radio.
Unlike some other drones, the Ghost is very easy to use. The developers have pre-programmed one click commands including Take off, hover, return and land. You can control the height and orientation of the Ghost by sliding the bars on the app. Vertical bar controls the altitude.
The Ghost has been designed to safely carry a digital camera and is compatible with GoPro Hero3 + 4. The Ghost app allows you to control the angle of your GoPro to shoot versatile videos. It is also wind and water resistant.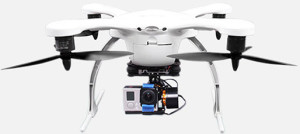 The features I love the most about the Ghost are the safety considerations that were put into the design. For example if the Ghost exceeds the control range (0.6 mile) or Radio Frequency connection is lost or broken, it will automatically kick into return mode and return to the place of origin. Upon arrival it will hover at 10 meters waiting for further instruction (landing). The app will also alert you when the battery is low.
This device will put a permanent smile on your teenager's face, or if they haven't been good, you can keep it for yourself.
Features
DRONE WEIGHT: 1.4 lbs
CONTROL DISTANCE: up to 0.6 miles
GPS: UBlox 6M High Precision GPS
SPEED: up to 49 mph (speed set to 10mph for safety reasons)
FLIGHT TIME: up to 30 mins (up to 20 min with gimbal & GoPro)
WIND RESISTANCE: up to 21 knot (11m/s)
APP: IOS and Android Versions
Compatible with GoPro Hero3 + 4
Wind and water resistant
COLORS: Currently black and white, 5 additional colors in Q1 2015
For more information or to acquire: The Ghost Drone