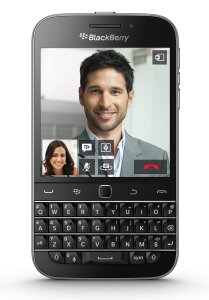 Blackberry has reached into the technology past and overhauled one of it's retro handset's CPU, screen and camera making an oldie into a new trendy for Christmas.
In New York BlackBerry CEO John Chen today unveiled the the Blackberry Classic. The Classic has a larger screen (3.46" LTPS TFT LCD) and a sharper camera with the ability to take panorama and "burst" shots. However what is definitely the draw for the Classic is that it will feature the traditional BlackBerry form factor with a physical QWERTY keyboard and navigation keys.
Blackberry is hoping by addressing the cry of its traditional base it will draw back many of its wandered Crackberrians and enterprise customers back to the fold. Readers should note that the Classic is not 100% retro as it will run Blackberry's  OS 10 and a faster (Qualcomm MSM8960 Dual Core 1.5 GHz) CPU. Although \the Classic camera is far superior than its predecessors at 8 megapixels, it still falls behind the current smart phone standard of 13 mp.
On the Classic there will be far more apps available to customers than before, as BlackBerry struck a deal with Amazon to feature its App store on the platform. Amazon, currently has the BlackBerry Classic available to order at $449.  Online tech websites Crackberry.com is already reporting that BlackBerry has already sold out its North America Classic preorders
Coffee room reaction from my Blackberry friends on the Classic is mixed.  Some believe that this may be the device to attract former Blackberry traditionalists back to Crackberry fold, while others have moved on to other pastures.  Only time will be able to tell which camp is right.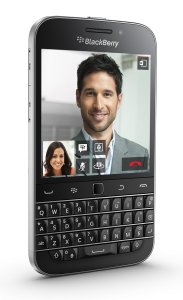 Features
Dimensions (L x W x D): 131 x 72.4 x 10.2 mm
Weight: 178g
Processor: Qualcomm MSM8960 Dual Core 1.5 GHz
Storage: 2GB of RAM with 16GB of storage space upgradeable with a microSD card
Colors: White, Black
Large square touch screen: 3.46" LTPS TFT LCD touchscreen
Resolution: 720×720
O.S: BlackBerry 10
Camera: 8 megapixels
Ports: 3.5 mm stereo headset, Micro USB 2.0 High Speed, USB Port
Physical Video out via SlimPort, Wireless Video out via Miracast
Nano SIM card (4FF)
Compatibility: Ability to install Android and BlackBerry Apps
For more information or to acquire: Blackberry Classic – Amazon