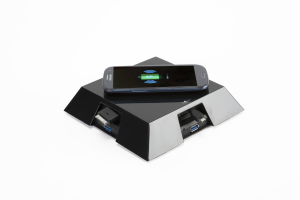 Just in time for Christmas Eggtronic has unveiled the addition of Qi wireless charging functionality to its personalized sync and charge station HUB IT.
HUB IT provides the ability to charge and synch multiple devices simultaneously. What distinguishes it from the rest is its lightning speed USB 3.0/up to 5 Gbps and its customizable solution. Eggtronic knows that like taste, everyone has their own gadgets and electronic devices. Hence the Hubb IT station offers three USB ports and four retractable customizable cartridge connectors (Micro USB, Mini USB, 8-Pin, 30-Pin) which can be changed and upgraded.   Hub IT has enveloped all this within its sleek and stylish aesthetics of its Italian design.
Replacing the cartridges are as easy as shutting down the Hub IT, opening the cover and plug and play.  So easy that a child can do it.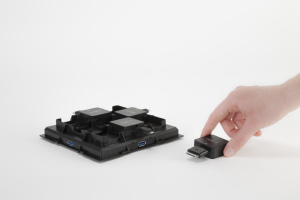 Hub IT Functionality
USB 3.0 specification Compliant
Battery charging 1.2 standard compliant device fast charge
Auto-Detection upgradable firmware
Plug-and-Play installation
Hot swappable
Customization and upgrade slots 20W output power
Connections:

3 x USB 3.0/ 2.0 / 1.1 Compatible Ports
4 x USB 3.0 / 2.0 / 1.1 Slots
5 x Power Cartridges Expansion Slots
The latest addition to the Hub IT station, the Qi wireless Charger Cartridge, is the best wireless charging standard, developed by the Wireless Power Consortium. By leveraging electromagnetic induction technology, it produces a magnetic field that generates an electric current for batteries placed on the charging pad. The Qi Wireless Charger Cartridge is compatible with all smartphones that support the Qi standard.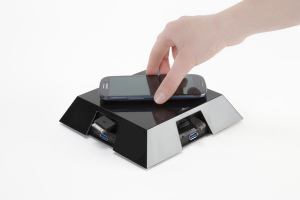 Qi Wireless Charging Receivers available now in the U.S. at amazon.com
Qi Wireless Receiver for Samsung Galaxy S5
Qi Wireless Receiver for Samsung Galaxy S4
Qi Wireless Receiver for Samsung Galaxy S3
Qi Wireless Receiver for Samsung Galaxy Note 4
Qi Wireless Receiver for Samsung Galaxy Note 3
Qi Wireless Receiver for Samsung Galaxy Note 2
Qi Wireless Receiver for Apple iPhone 6 Plus
Qi Wireless Receiver for Apple iPhone 6
Qi Wireless Receiver for Apple iPhone 5 / 5S / 5C
Qi Wireless Receiver for Micro USB
For more information or to acquire the cartridges: Eggtronic Qi Wireless Charger Cartridge
About Eggtronic
Eggtronic is an Italian based designer and manufacturer of consumer electronics products, mobile device accessories and innovative technology. Established in 2013, Eggtronic brings to the portable scene its Italian design know-how, quality and passion for extreme attention to detail. Through an undivided commitment to innovative and original designs, Eggtronic produces stylish and functional premium accessories. Eggtronic's products are exclusively sold in North America in leading consumer and electronics retailers, mobile retailers and through http://www.eggtronic.com.